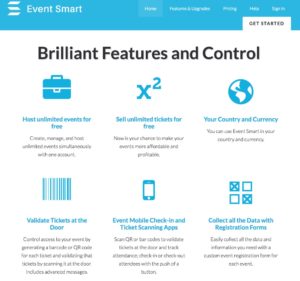 First off, what is Event Smart?
Event Smart is a free, online event registration and ticketing platform. Better known as a Software as a Service (SaaS) event registration and ticketing platform, but it's much more than that.
How is Event Smart More Than a Ticketing Platform?
Event Smart is the only event ticketing platform that helps you be more profitable as your business grows. The service allows you to organize unlimited events and sell unlimited paid tickets for free in your country right from your Event Smart website.
What's more, is that Event Smart is currently the only SaaS ticketing platform built on top of WordPress. Better yet, Event Smart customers are now selling a combined 500,000 thousand registrations a month.
Event Smart customers are selling a combined 500,000 registrations a month for FREE
Click To Tweet
What Exactly is Powering the Event Smart Ticketing Platform?
EventSmart.com was developed on top of WordPress Multisite to bring the Event Espresso and WordPress opportunity to an even larger audience.
Event organizers can use Event Smart to create events, start a blog or build an event website in seconds without any technical knowledge. Meanwhile, the team at Event Smart, which is really the team behind Event Espresso manages the server (hosted by Pagely) for a multitude of event websites and provides features that are not available on any other event ticketing platform, such as blogging and static pages.

Powered by WordPress & Event Espresso
If you take a look at the Event Smart About Us page, among other things, you will see that Event Smart claims to be powered by industry-leading technology and experts:
Okay, we know what the industry-leading software is but who are the experts? Well, I'm glad you asked. Let's break it down:
If you were to ask the Event Espresso Team (the team behind Event Smart) who the experts are, they would most likely exclaim, "Our customers are the experts behind our products."
What? How are customers the experts behind the products?
Well, the mere fact that 99.8% of the Event Espresso feature set is guided by client feedback over an eight-year span should tell you who the experts are behind the platform. During those eight years, the influence of customer feedback has been on the forefront of bringing forth the most feature rich and best-supported ticketing plugin for WordPress.
During those eight years, the Event Smart vision finally started coming to fruition. In 2015, the Event Smart ticketing platform was brought to life/
What Exactly is the Event Smart Vision?
Event Smart empowers businesses and organizations with the event registration, ticketing, publishing, and management tools that maximize the success of their events.
The vision for Event Smart is to become the world's leading event registration and ticketing provider by offering our customers autonomy, access, and value.
What Value Does Event Smart Provide That Other Ticketing Platforms Do Not?
Their pricing model makes Event Smart more affordable and accessible to event organizers. You can run an unlimited number of PAID events, and sell an unlimited number of PAID tickets for free. Instead of charging fees per ticket, event organizers on the Event Smart platform only pay for any extra special features they need or want.
Event Smart offers a comprehensive set of online event registration and ticketing features for event professionals. The Event Smart business model also serves a broad range of companies:
Independent event organizers with a small audience.
Enterprise clients who host hundreds of events and sell thousands of tickets per year.
Venues that manage the registration and ticketing for a variety of events.
Event Smart provides the only event ticketing platform that helps event organizers to be more profitable as the business grows.
Real-time Community Chat Available
Besides the features listed above, what other ticketing platforms do you know of that offers a community chat channel? I don't recall ever seeing one. Do you? Event Smart's real-time community chat group (powered by Slack) was specially formed for professionals that are leading the way in events from event management, event technology and event marketing to work-life balance.
That sounds pretty smart to me!
Conclusion
When you need to sell tickets, you have many options. However, you'll be hard-pressed to find a solution that works for standalone WordPress websites and offers a SaaS solution for your customers that can't or don't want to host their site. So be sure to check out the Event Smart website next time you need to organize events and sell tickets.
Start Your Free Trial of Event Smart Today!
Get start with Event Smart for free, cancel anytime.
All plans come with a 14-day free trial.