"I have had all of the disadvantages required for success." ~ Larry Ellison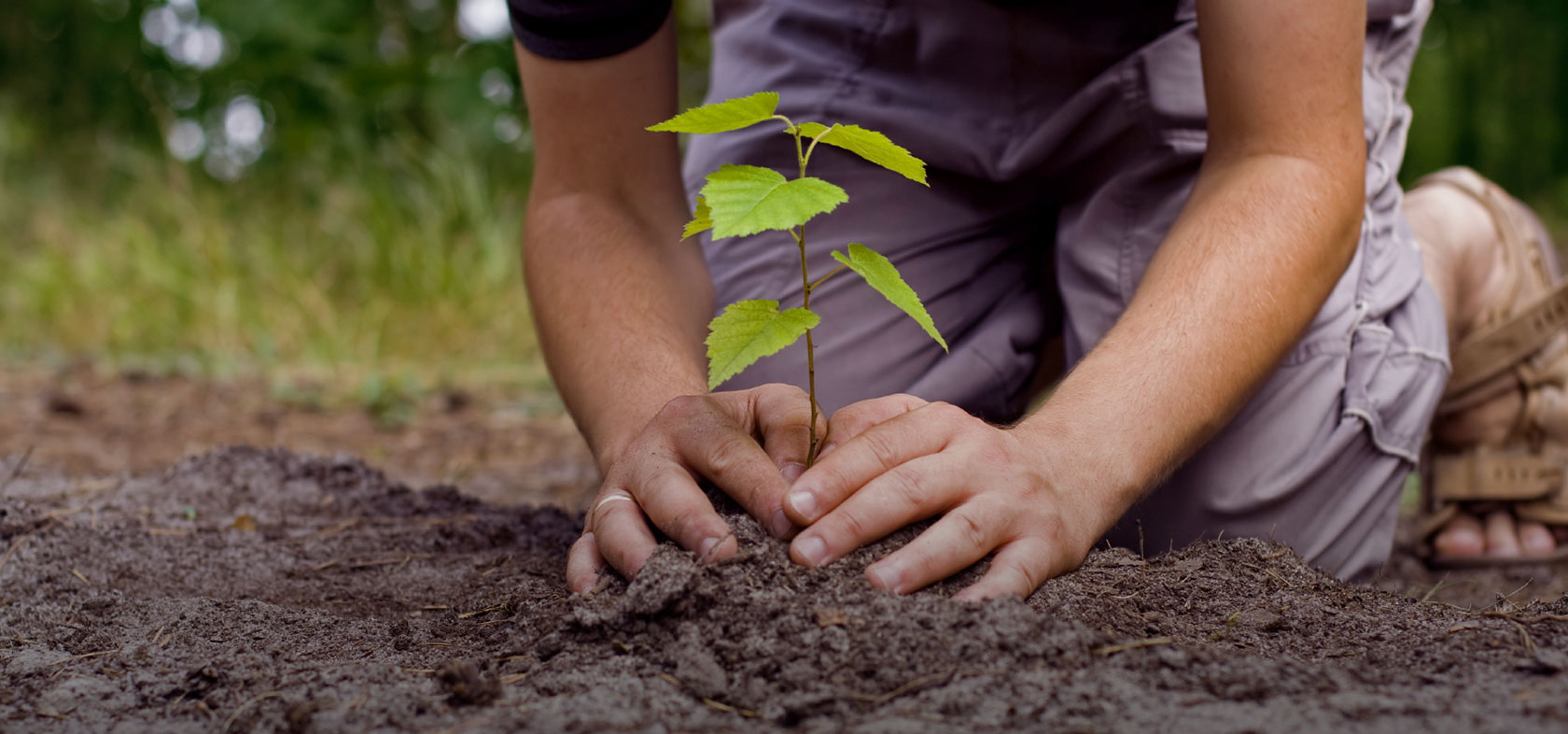 Starting From the Bottom
My story could have been a lot different today, had I not started from the ground up on a new plan for my life many years ago.
You see, by the time I was 23, I had traveled around the country, while in the military, then came home and slowly started losing my way in life.
At my lowest point in life, I lived with bums and dumpster divers and had even been on the brink of suicide more times that I could count on two hands.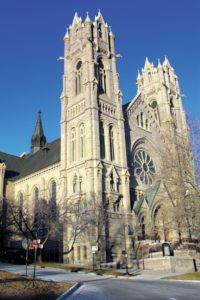 Almost, twenty years ago today, I was living on the streets and sleeping behind a Catholic Cathedral in downtown Salt Lake City, Utah. I would wake up at 4:55 am every morning, just before the sprinklers turned on and throw on my shoes, then hustle down to the day labor center. Hoping to arrive before the rest of the homeless folks showed up to get the best jobs.
Back then, if you waited too long, you might get stuck with an old alcoholic or drug addict, for a partner, on a construction job, digging ditches or cleaning up hazardous materials.
Not that there's anything wrong with digging ditches or cleaning up after someone else but homeless, alcoholic, drug addicts aren't your typical safety minded individuals, especially while you're dodging dump trucks and tractors on a busy construction site.
After losing my way in life, I realized something needed to change. I had to make a plan. I knew I had to make a plan to get off the streets and not get addicted to alcohol or drugs.
So, I made a plan to start my life over, work hard, keep my head down, find steady work and a place to live.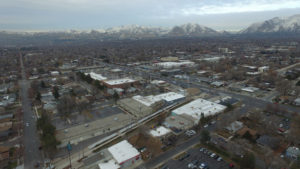 During this time, while I struggled to survive on the streets, all I could think about was my journey up to this point.
Before now, I had literally hitchhiked across three different states and slept under a freeway underpass at one point.
But how did I get here?
Setting Big Hairy Goals Doesn't Always Work Out
Before the aforementioned, unfortunate, turn of events, I had a career in the military. The Arizona Air National Guard, as a matter of fact. I had set a big hairy goal to get here: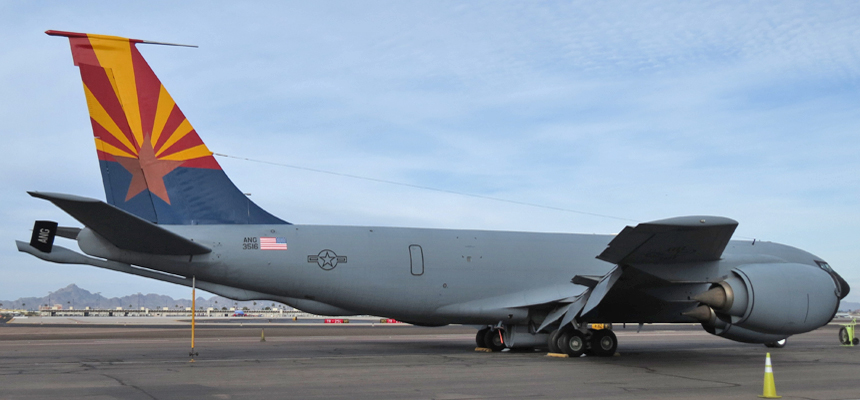 Unfortunately, it was a career that didn't exactly turn out as I originally planned. When going into the military, I had a set a big hairy goal to get the training and certification to become a Nondestructive Inspection expert and find a job in the aerospace industry when I got back home.
After coming home from boot camp and tech school, there were very few job openings in aerospace industries near me. After all, I didn't have a vehicle at the time, so I relied on my friends and parents to drive me around everywhere. I was stuck in a dead-end position in the Air National Gaurd, with no chance at promotion. Little did I know, the aerospace manufacturing industry was starting to slow down.
It seemed that I had reached my goal of getting into the Air National Gaurd, but there was nothing left to do after that. I had reached my goal but I didn't have any backup plans.
Living at home with my parents, and eventually my grandparents at 23 years old. I was young and extremely bored, anxious, depressed, and mad at myself that I couldn't find a job working on airplanes, which was my dream at the time. I didn't have any great backup plans or long-term goals, other than getting into the Air National Guard and finding a job after.
Losing My Way in Life; Losing Focus & Starting Over
Since the job industry for what I trained in for so many years was depleted, and the military pay, for my pay grade, was almost nothing compared to my peers. I ended up living at home, delivering pizzas for Dominos and giving up on my aerospace and military aspirations.
While at home, I still was surrounded by people with low self-esteem, very little ambition, and a love for alcoholic beverages and drugs.
Almost everyone I knew or was related to was an alcoholic or drug addict.
By then, my self-esteem and expectations were at an all-time low. I started drinking more and more, eventually turning to hard drugs.
After losing my focus, becoming an alcoholic and letting go of my military aspirations, I lost my way.
Soon, I was giving up on life and heading down a path towards destruction.
A Fresh Start on Life
One day I woke up and decided it was time to start my life over. I had to stop drinking and clean myself up. Otherwise, I risked becoming like my parents, repeating the pattern of alcoholism and substance abuse that was prevalent in them and my grandparents.
I needed to get away from all of the toxic people in my life.
So, I left home once again, leaving Arizona in search of a new life. Eventually, ending up in Utah, living and working amongst people who had taken up the fine sport of dumpster diving and panhandling on the freeway exits.
Right Back Where I Started. Almost.
I was living on the streets, now in Salt Lake City. It seemed I ended up in a worse situation than what I left. I had no car, no home, no friends and I was still amongst the same type of people I was trying to get away from.
I knew I didn't want to live like this for long. Living with the possibility of ending up face down in a ditch somewhere, next to an empty bottle of whiskey.
So I kept my head down, worked hard, and eventually found a stable job, then found the woman of my dreams, and married her a short time later.
Learning & Working Hard Pays Off
Shortly after meeting my wife. I paired my motivation to learn, with my drive to build new things. I set out on a goal to learn web development while working full-time construction jobs.
Since I was working full-time, and learning web development on my own, it took me a few years of studying programming books, searching the web for code examples, and tinkering with other peoples code before I felt like I was getting any good at web development.
Eventually, that hard work and dedication lead me to where I am today:
This is the home I live in, and these are my kids.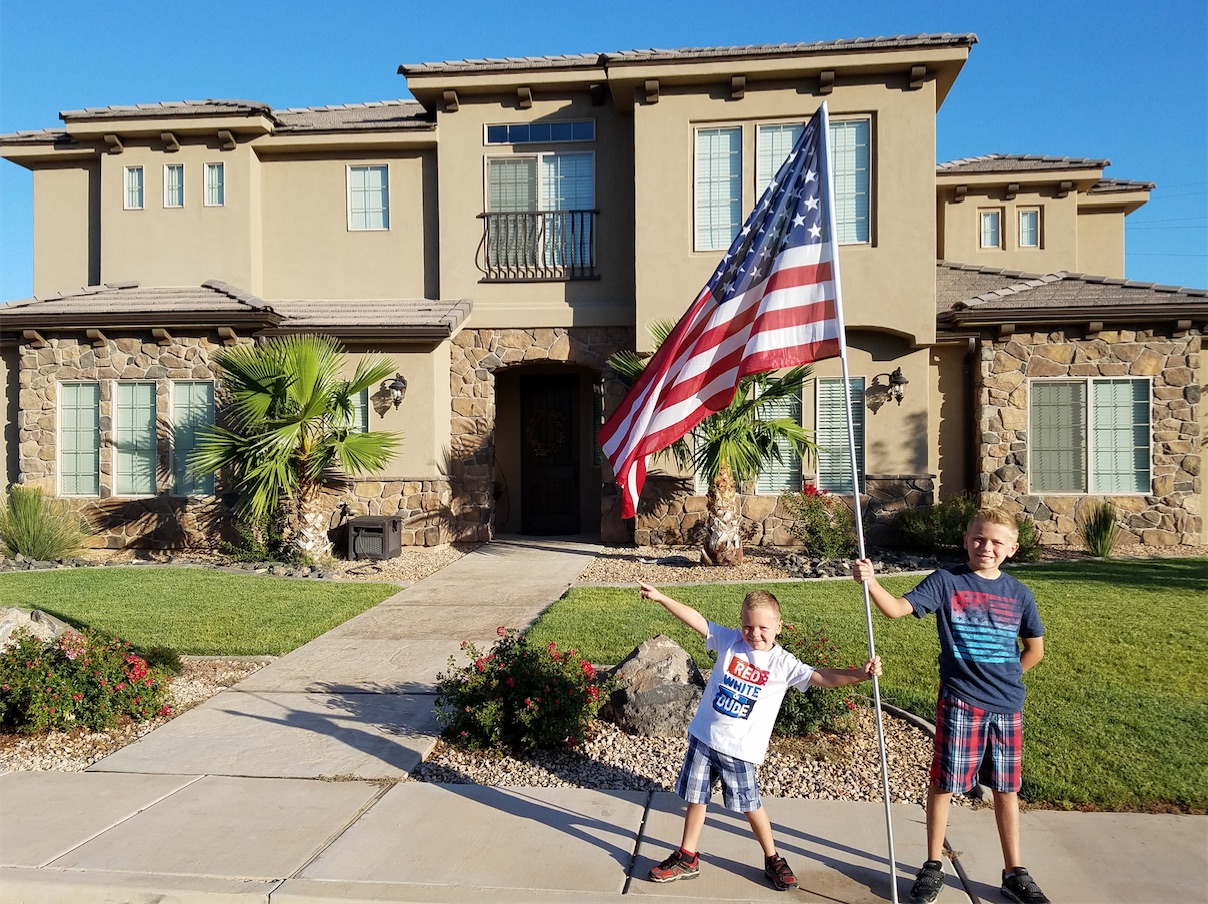 The Road Less Travelled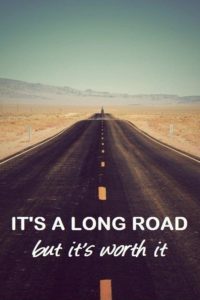 Working my way up to where I am today, took a long time.
Getting to where I am today, was a road less traveled.
The road less traveled is long, but it was a lot better than hitchhiking across Arizona, Nevada, and Utah, living as a homeless person, and breaking my back at day labor jobs, as I had done previously, before finding a new outlook on life.
I got here because I still strapped on my steel-toed boots every day and toted my web development books with me everywhere I went.
Backbreaking Work
Even though I worked in construction for many years, I was always consuming programming books. Whenever I had five minutes of downtime, I was learning.
If I wasn't reading a programming book, I was sitting in front of my computer either writing code or reading someone else's code, line-by-line, sometimes deconstructing it to see if I could break it.
I did this every day, for several years, usually into the early morning, sleeping only a few hours, then starting the whole process over the next day.
Go to work, study, read, write code and sleep.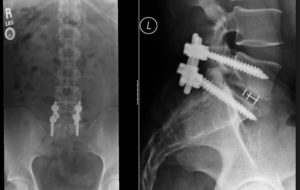 Along the way, while working the construction and labor jobs, I was in a couple car accidents and I eventually ended up having back surgery, which meant many hours of downtime.
It was during these periods of downtime when I literally had nothing better to do than consuming business, sales, marketing, and programming knowledge.
Reading anything and everything I could find about these subjects.
Self-motivation
After getting back on my feet and building up enough self-motivation and web development know-how. I decided to start up a small website development firm. That went pretty well for a few years until the clients stopped coming.
I couldn't compete with the low prices other website development companies were marketing.
"Time to get a real job again," I said to my wife one day, after failing to find enough clients each month. However, this time, instead of applying for construction jobs, I felt confident enough to interview at a few of the local web development firms.
Confusion & Shame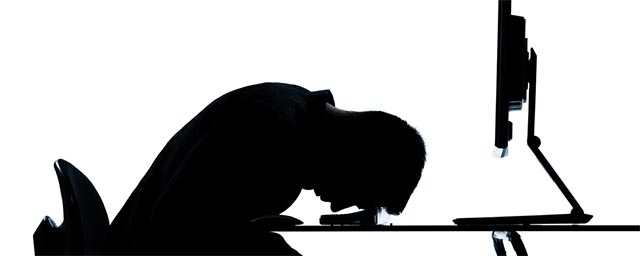 That didn't work out as well as I expected, as I left in shame from a few interviews before I found that I was a better developer than a designer. After all, I was pretty good with Flash…but my Adobe Illustrator and Photoshop slicing skills were not there, yet.
I was often laughed out of many an interview. One time I was so flustered, I couldn't even explain what a CSS box model was. Someone finally told me bluntly, I wasn't a website designer, I was a web developer.
I didn't let that stop me, though.
A short time later, after almost giving up and losing my way, again, I came up with a new plan and started looking for website development jobs.
The ASP.NET Years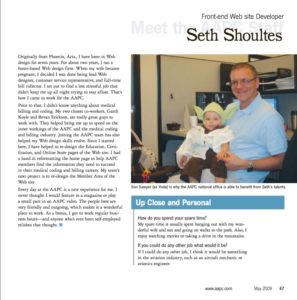 Eventually, I ended up landing a front-end developer/marketing job at a medical coding and billing company, where I had to interface with their Microsoft ASP.Net developers.
Basically, I was hired to redesign the company website, develop, launch, and market their new products. This is also where I ended up meeting my business partner, Garth Koyle.
For the next three years, I had no idea how to develop for ASP.NET but I was proficient with HTML and CSS and had some PHP programming background, so I did the best I could.
Shortly after ramping up and showing my new boss I knew how to throw down some HTML and CSS, we set out to redesign the company website, which went great, and we launched a custom built education and conference registration system, and eventually, a completely custom shopping cart system, all from the ground up, which took us just about a year to complete.
But We Forgot the Blog!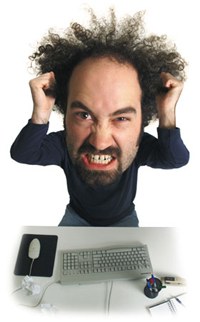 After all of that, the website was missing a damn blog. The marketing department needed a blog and no one thought to add one while planning the new website. After all, how is the marketing department supposed to do its job without a blog?
After many hours of frustration and back and forth with the damn "IT department," they failed to see the need for a blog.
You see, the IT department was already neck deep into the next project, and a blog was a low priority item for them. As with most projects we sent to IT, the marketing department had to compete with everyone else's projects, including the CEO's latest schemes, which always took precedence over everyone else's projects.
Being highly motivated at the time, I decided to bypass the IT department and build a company blog on my HostGator, shared, reseller server. I showed my boss the results the next day, and he was ecstatic. The CEO even smiled, I think for the first time since I had been there.
WordPress for the WIN!
Free, As in Free Salad?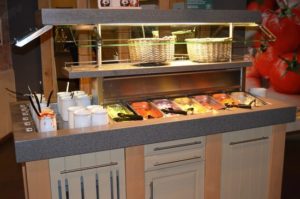 Soon, because of the constant hold-ups and missed schedules at the IT department, the CEO was asking me to take on his pet projects.
So, my desk was moved closer to the CEO's office. Which was close to the break room, which was also close to the free, employee salad bar.
Life was good.
For a minute.
Now, I was the new go-to-guy for IT projects.
Not a great feeling, as that led to abrasiveness and evil looks towards me from the IT department because I was not a certified Microsoft ASP.NET developer or whatever.
The Imposter
I already felt like an imposter and having the CEO now hovering over my shoulder and stopping by desk regularly didn't help for some reason.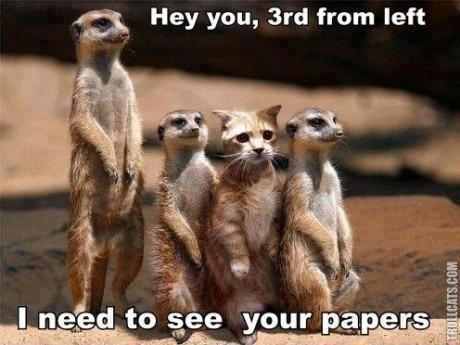 Here I am, just a regular Joe, without a certification after my name. I thought for sure I was going to be found out. I thought the guys IT would make sure I was 404'ed. Not be found.
I could see it in the news headlines, "Killed by the guy from IT with the weird look in his eye." I thought for sure I would end up the victim of a "server room accident" or found dead, out behind a warehouse somewhere.
The IT Department pretty much stopped talking to me, so I thought to my self, "It might be best to lay low for a while."
Open Source to the Rescue
So that's what I did. I just kept to myself, going back to my old ways of consuming all the knowledge I could, but this time, I was laser focused on learning about WordPress, Open Source software, and the "Free Economy."
Not the "free market" system, but "free" as in "free beer."
Free as in I develop a plugin, and you, the end customer get to use it for free. Even if you make money from the software, you can use the software completely free.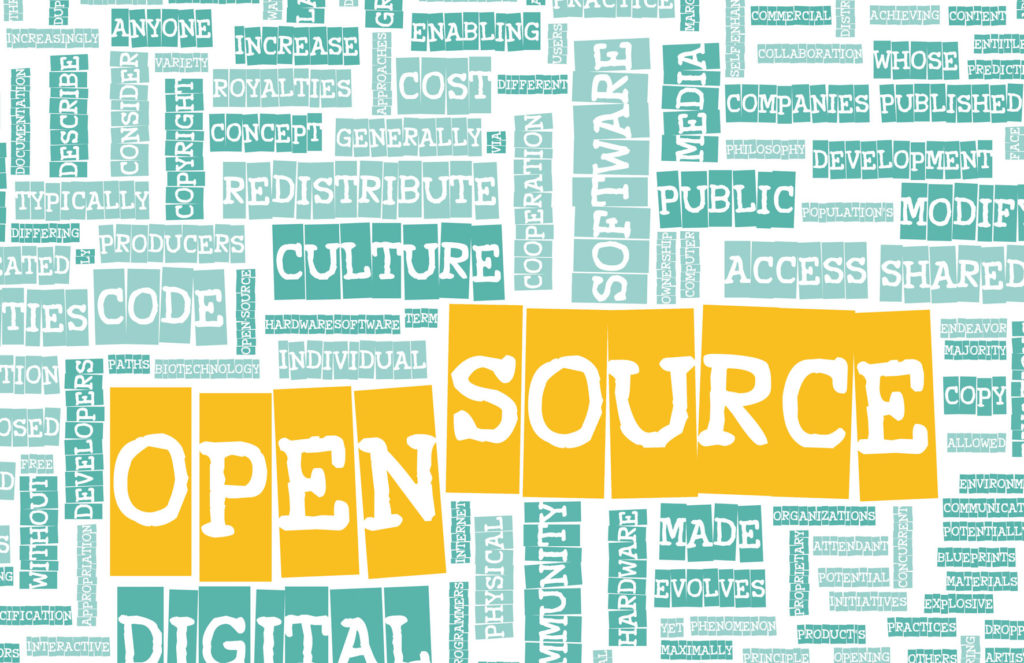 Open Source was Exciting!
Open Sourcing something means that you don't have to start a software from the ground up anymore. You can literally start with someone else's code, modify it, extend it, make it yours, and completely change the path of its development.
Open Source Software was exciting to me. It allowed me access to real-life, working code examples, as well as access to a plethora of great developers. Gone were the days of believing code should be closed source, or obscure to the end user, which seemed especially prevalent in the IT department where I worked at the time.
Open Source is Not a Threat!
I soon found out why the Microsoft.NET developers stopped talking to me.
It wasn't because I was the CEO's "golden child."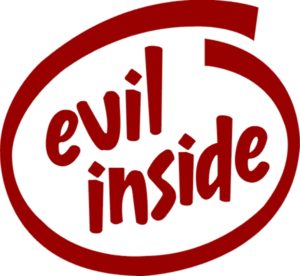 Nope, it was because the IT department saw Open Source software as a deadly virus, which was ingrained in most Microsoft developers after the first so-called "Halloween memo" from Microsoft suggested that some in the company saw open-source software as a major threat.
"The intrinsic parallelism and free idea exchange in open-source software has benefits that are not replicable with our current licensing model and therefore present a long-term developer mindshare threat," the memo said, suggesting that one way to thwart open-source software would be to extend communication protocols with Microsoft-only changes.
At the time, the IT department was frightened of the possibility of Open Source code finding its way into their proprietary software. So they tried to keep me as far away from the IT department as possible.
It was so bad at one point, that the marketing department had to get clearance from the CEO before I could enter the IT department offices. However, they tried to play it off as they were too busy and the marketing department was distracting them from the CEO's pet projects.
Eventually, I guess I had to be reigned-in. After building three or four more WordPress websites for various departments in the company,  the IT department was tasked with creating their own proprietary blogging system, ending my reign as the "lightweight IT guy."
Building a Business Around WordPress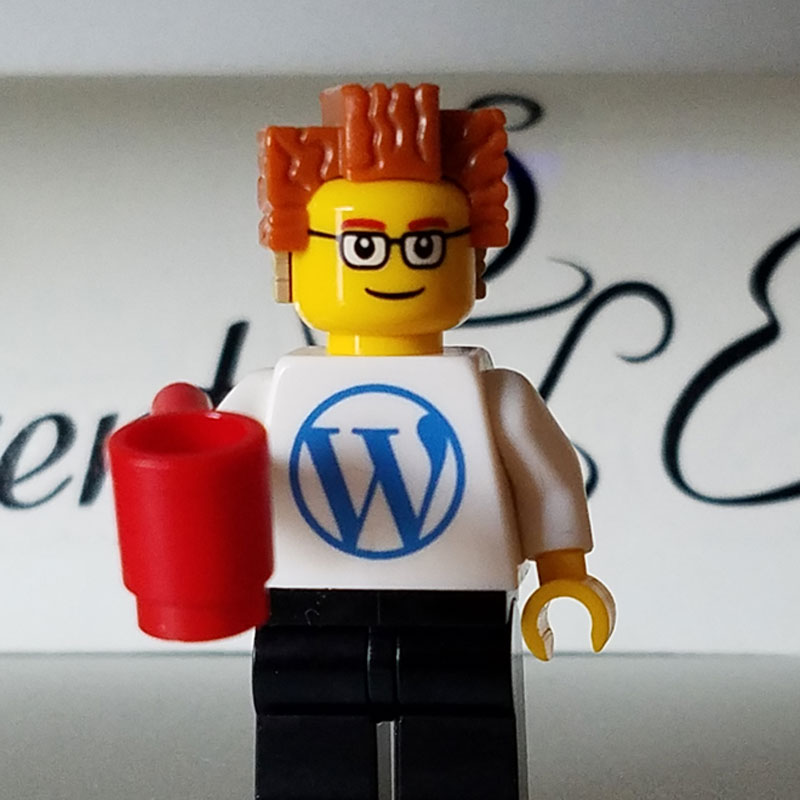 Business Needs
After finding how useful WordPress had become to my work in the marketing department. I finally decided to move my wife's scrapbooking website over to WordPress and start development on a class registration system for it.
At the time, there were very few event registration plugins for WordPress.
Online ticketing services, like Eventbrite was much too expensive for my wife's little scrapbooking events, where the cost of the tickets barely covered the cost of refreshments and supplies.
Find a WordPress Plugin
After a few hours of exploring the WordPress plugin repo, which contained only 5,000 plugins at the time (around 2008), I finally found a small plugin that allowed people to RSVP on my wife's website. However, it lacked one essential feature. The plugin was missing a payment method. It didn't have a way to accept payments. So I reached out to the developer of the plugin to see if he had any plans to add PayPal. After several weeks with no reply from the developer, I decided to add my own PayPal integration to the plugin.
Rebuilt & Owned It
Next thing I know, I'm rewriting code and adding more and more features into this little plugin I found on the WordPress repo, only a few months before. Just one problem, I'm the only one that can benefit from these great new features.
After a few more unanswered emails to the original plugin developer, as well as the mounting, unanswered forum posts on WordPress.org. I decided to launch what I created under a slightly different name.
Renamed It
I think it was called, "Events Registration with PayPal Integration." I might have over-SEO'ed the name, but the plugin worked. People started using it and offering feedback, which I listened to wholeheartedly and acted upon every chance I got.
I could only go so far though, as the underlying code quickly turned into a patchwork of PHP code, which we later termed, "A Mosaic of PHP Ductape."
I eventually realized that I needed to start the project over. So I brought on a business partner and built both a new version of the plugin, as well as a business around it called, "Event Espresso."

A $40,000 WordPress Business Plan
This time, however, we built both the plugin and the business from the ground up, all the time envisioning a business plan.
It was a business plan so compelling, that we won $40,000 in the 2011 Utah Entrepreneur Challenge.
How did we end up with a $40,000 business plan?
Good question.
At the time, my business partner, Garth Koyle was a student at the University of Utah, working on his MBA. He got word of the Utah Entrepreneur Challenge and asked me if we should enter. After some consideration, we decided to enter, which meant that we would end up writing a 30-page business plan and presenting our idea in front of a panel of 15  business leaders or judges.
Banking on Longterm WordPress Stability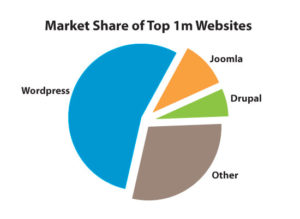 Since the core of our business plan also relied upon the long-term stability of the WordPress platform, we had to convey what WordPress was to the panel of judges, which was not an easy task, as many of judges had never heard of WordPress or maybe considered it a blogging platform, if they had even heard of it.
We based our "WordPress Business Plan" on our long-term vision for the future of the plugin, services, and features we strived to provide customers.
Extensive Marketing Research
This was a vital ingredient to the development of our business plan, it helped us identify and answer many questions about the market we were entering.
Here's an example of many of the questions we answered about our industry:
Does the idea already exist?
How do we plan to communicate with potential consumers?
Who will purchase/use our product/service? Who is our target market?
Who is our target market?
Who are our market rivals, (competitors)?
What price are our competitors selling their product/service at?
Meeting Expectations
At this point, we had very little expectation of winning. However, we decided to show up to the awards banquet when we found out that we actually made it into the top ten contestants.
At the time, our expectations were so low that we didn't even invite our friends or family to the ceremony.
Only my business partner, his wife, and I showed up to the awards banquet together. We had this huge table, with a fancy, four courses, catered dinner, all to ourselves.
We had no idea what the night had in store for us. Neither of us invited our friend's and family to the event, as most of the other competitors had done.
Walking Away with the $40,000 Grand Prize
While my wife was at home, pregnant watching the oldest kid, and missing out on a gourmet meal. We still had no idea what to expect.
We were just sitting there, just the three of us, at a table for 8, as the announcer called out the first few winners, who came up to the stage to claim their prizes.
All three of us were stuffing our faces with steak and salad when we vaguely heard the name, "Event Espresso" called out over the speaker.
Garth and I looked up from our plates and stared at each in total bewilderment. At which point we both said at the same time, "Did they just say, 'Event Espresso'?" Then we looked around the room and noticed everyone else's gaze locked on us.
A Giant Cardboard Check
It felt like everyone in the room was staring at us, with a look of total bewilderment on their faces, while clapping their hands furiously.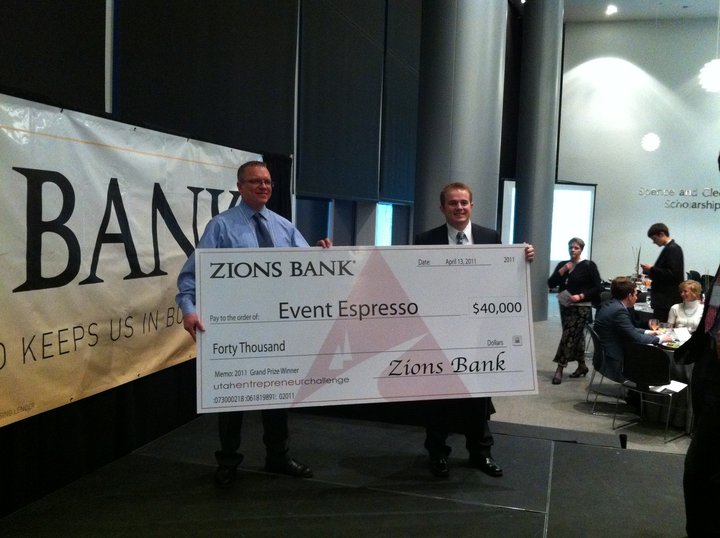 By the time we walked out of there that night, we had won the grand prize of $40,000, along with a great big cardboard check, with the amount of $40,000 printed on it. The check was so big, it barely fit in the back seat of my truck.
Coming out ahead, against 70 other competitor start-ups, from all over Utah, and winning the 2011 Utah Entrepreneur Challenge undoubtedly boosted our ego.
Feeling Like an Imposter
All that time, leading up to the challenge, I had felt like a total imposter. A total fraud. I didn't really understand how we ended up amongst the top ten competitors, let alone walking away with $40,000 in our pockets to use towards the business.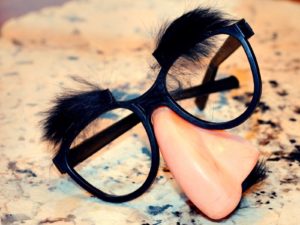 Unmasking the Imposter
A few days after winning the grand prize, it finally started to sink in that we had won. It was almost like someone ripping off my imposter mask and exposing me for who I was but in a way that felt like a huge weight was lifted from my chest. Almost like the time when I took my first steps after back surgery. I could walk. I could feel my toes again.
Giving Back to WordPress
Later that year, we ended up sponsoring WordCamp San Francisco, bringing our plugin, and ourselves, in front of a broad audience, composed of the most respected people in the WordPress community.
I think we were one of the first WordPress plugin companies to sponsor the biggest WordCamp in the world, at that time.
None of this would have happened without a vision, a plan, hard work, and an outstanding WordPress Community.
What's in a Winning Business Plan?
So what was in our WordPress Business plan? How did we end up winning?
For us, it took a lot more than just market research, crunching numbers, and trying to foresee the future. It took a smart, business-minded co-founder, a lot of vision, extreme dedication, copious amounts of customer feedback, and attention to detail. And uncovering…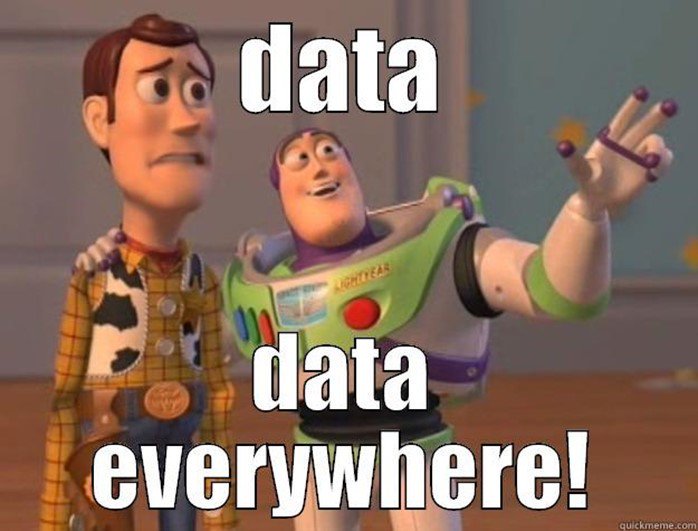 Market Size
First, we explained the market size of the industry we were entering, which was over a billion dollars a year at the time.
Vision
We explained our vision to become the world's leading event registration and ticketing provider and provide a model of profitability by offering our customers autonomy and value.
Action
We demonstrated that our software ran on an open source platform called, WordPress, which allowed event managers to sell tickets to events and classes, track attendance, and capture payments, all from their WordPress website.
Immediate Results
At the time, the plugin was actually in use by many thousands of customers worldwide. Meaning, we had fruits from our efforts to prove our ideas worked.
We had a full-blown Minimum Viable Product (MVP) with our plugin, real customers, and real data.
We had just launched our attendance tracking and ticket scanning app for both Android and Apple devices, and next, we planned to create a software as a service (SaaS) event ticketing platform, powered by Event Espresso and WordPress, called Event Smart.
Autonomy & Value
Our vision was to bring an unprecedented amount of autonomy and value to the event industry through our Open Source technology.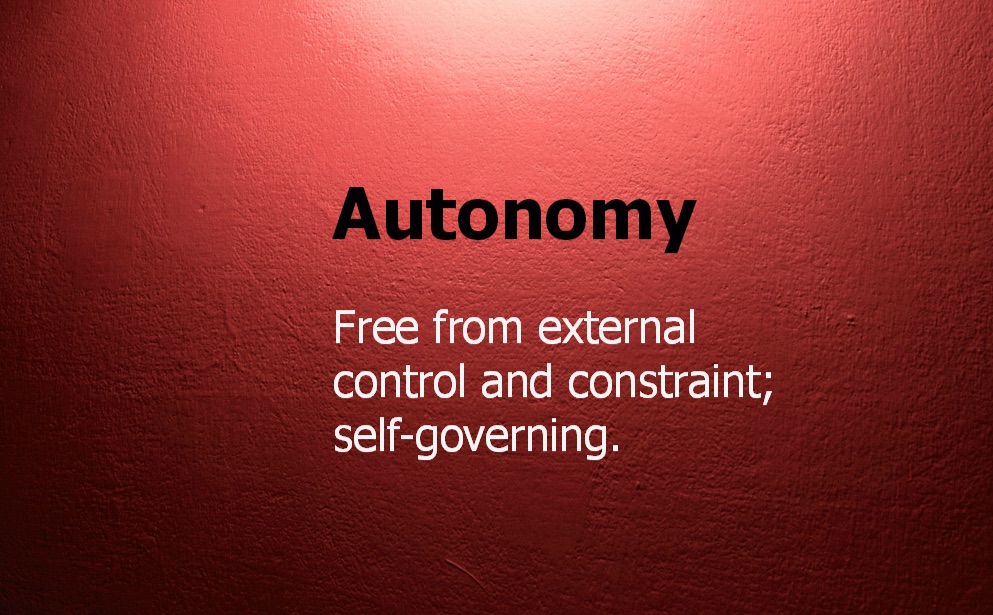 Future Planning
By having everything in place with our plugin, we made it easier for the judges to see our current position, the size of our market, and our long-term potential. We had a high-level plan of attack, with a substantial head start on accomplishing our goals.
We planned to release both a software company and a service company that would go on to both complement and compete with each other at the same time. It would be like the Coca Cola company acquiring and selling Pepsi products, so they could reach all the independent movie theaters, privately owned fast food restaurants, and corner gas stations across America, meanwhile a big pool of major competitors fight over space in the overcrowded market. Such as movie theater chains, restaurant franchises, and grocery store chains.
We were basically creating a synthesized platform, where event managers (our customers) had full flexibility to either:
Host their own event registration and ticketing website;
Or pay a small monthly service fee for the same services but without the web hosting overhead, software installs and updates, and security worries.
All the time, paying only for the services they need/want and without ticketing fees that are prevalent in other services, like cVent and Eventbrite.
Long-Term Vision
A long-term approach should not be confused with an infinitely patient one. ~ Larry Fink, CEO of BlackRock
We are now on the forefront of open sourcing a closed industry and disrupting their technology and services. However, to stay there, our focus is now on building operations, customer relationships and success.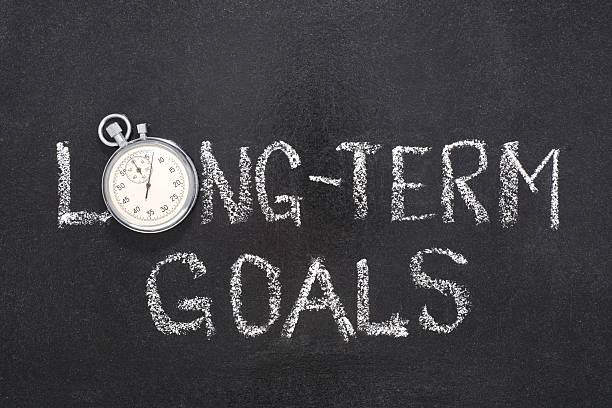 Winning
You could say our business plan won because we conveyed a long-term vision, or a set of goals for our company, which included building a subset of competing, as well as complementary, products for the $115 billion dollar events industry. However, I think our business plan won because we were motivated, willing to put in long hours, hard work, and stick to our plan of producing the best event registration and ticketing platform for WordPress.
Our customers (Event Managers) won because we stuck with our vision and launched Event Smart a few years later, in 2015. Event Smart now powers over 7,000 event websites and is effectively selling a combined total of over 500,000 registrations per month.
The WordPress community won because Event Espresso now powers over 40,000+ event websites; $100 million in ticket sales per year!
Conclusion
To have a successful business career, you have to push past the negativity and short-sightedness of others, and you have to love what you do, always looking for ways to improve.
To grow your business, you have to have an actionable plan and set, big, hairy, achievable goals, then set out to achieve those goals. However, achieving those goals requires dedication and focus, while making a great product or service means staying focused on the one thing you're good at while saying no to everything else. You also need to make fallback plans and set plans for the future so you don't lose focus on what's important. If the goals you've set require substantial time to keep them alive, then you must set up systems and operations to keep these goals working for you, freeing you up to generate new ideas and further innovation within yourself and your company.
Now, I leave you with this quote:
The best time to plant a tree is twenty years ago, but the second best time is now.
The end.
Follow Me
You can follow my blog at EventPresser.com, where I write about niche stuff, like how building a tree house relates to building ticketing systems on top of WordPress. I'm also on Twitter as, @sethshoultes.
If you would like help discussing your own goals, ideas, or would like to chat. Please feel free to contact me privately on my contact page, LinkedIn, or Twitter.
Cheers!
Interview on the Robojuice Podcast:
From Homeless to $100,000,000 with Seth Shoultes
WordCamp Wilmington Video:
Slides from WordCamp: