Are you on the look out for investment opportunities outside of the WordPress community?
The event Marketing start-up, Evvnt has kicked off a round of public funding on Crowdcube to offer shares to their customers and business partnerships. Invest in the future of event marketing!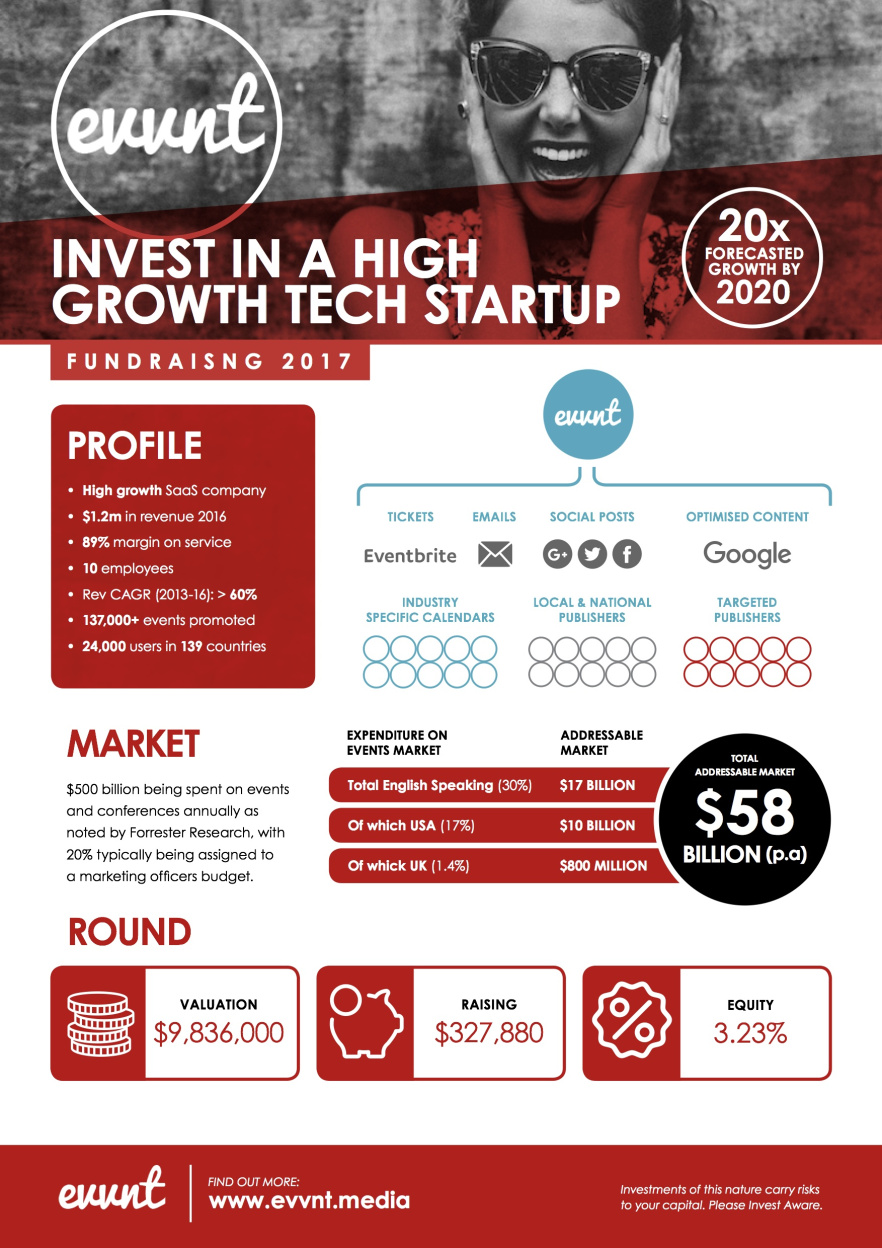 You must hurry, the investment opportunity closes Monday 21st September 2017.
INVESTMENT DECK

VIDEO
MISSION
To empower people, event organisers and venues of all sizes to manage and promote events data across their websites, mobile apps, internal systems, email, sms and the industry's largest ecosystem of event listing sites, calendars, ticketing, blogs, apps, social networks, directories and search engines including Google, Bing, and Yahoo from one simple platform.
THE PROBLEM
Millions of events are manually submitted via multiple marketing platforms to thousands of media channels yet these still fail to market an event successfully.
Fragmented industry
1000's of publishers & 100's of services available
Fickle, multi-channel consumers
Ineffective & complicated tools
Time-consuming & not cost effective
With limited reporting on what's delivering value
THE SOLUTION
On-demand event marketing platform connected to the world's best event marketing services creating event success from a single event submission.
Consolidation of tools
Multichannel delivery
Simple & Intuitive to use
Affordable & transactional
End to end accountability
Customer feedback loop to development
MARKET
The online event marketing industry is fragmented, more than 4500+ global event listing websites handle over 4.4 billion events every year. All of them are competing for customer attention and each has their own specific event submission formats, making it difficult for organisers to effectively reach their target online audience. There's a $10 Billion Market Opportunity out there and we in a prime position to capitalise on it.
$500m being spent on events and conference annually.
$58bn total addressable market p.a
$17bn being spent by English speakers on events market
Vertical Learning
YEXT – Business Location Listings Aggregator
ZipRecruiter – Recruitment Listings Aggregators
I originally came across this investment opportunity on the Event Industry News site:
Invest in a high growth tech startup – @evvnt – CEO VIDEO on @Crowdcube