Where can you get fee-free registration and ticketing for events? From Event Smart, that's where. Event Smart is bringing the power of WordPress to the event ticketing industry.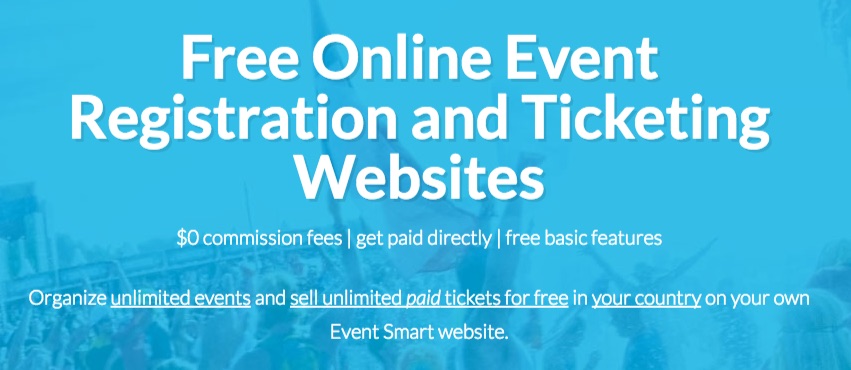 You Could Build Your Own Event Website
Well, for one, you could build, host, and manage your own WordPress website, then install one of a myriad of event registration or calendar plugins. Or you could manage events and sell tickets using a hosted system such as Eventbrite if you don't mind paying Eventbrite fees.
Introducing Event Smart – A Fee-free Registration System
Welcome, Event Smart to the event registration and ticketing scene. Event Smart is special, you can host unlimited events and sell unlimited paid tickets with their basic features, and premium features are available individually or as bundled subscription packages. Event Smart does not charge a commission fee for each ticket you sell. You use your own payment gateway account (e.g. use your own PayPal, Stripe, etc) to get paid directly and only pay their fees.
Seriously, No Fees for Selling Tickets?
Yes, seriously, you can legitimately accept paid registrations and sell tickets without spending a dime on ticketing fees. You know that $1 surcharge most ticketing platforms tack onto every ticket you sell. Event Smart doesn't operate like that. With Event Smart, you only pay for any additional features you need or want in addition to the core registration and ticketing services. Don't get me wrong, you may still have to pay transaction fees for credit card processing or PayPal fees, but you will never have to pay ticketing fees with Event Smart. How do they make money
"How do they make money," you must be asking yourself, right? Well, as I stated above, with Event Smart, you only pay for the features you need or want. So some additional features like an events calendar, multiple event registrations, and customizable tickets come with a small monthly fee.
Does Event Smart Work Outside of the United States?
Do you live Outside the United States? Or maybe your events are hosted in another country? No problem. With Event Smart, you can easily add your country to your Event Smart website. Event Smart gives you full control the locations of where your audience can register by pre-defining the countries and states/provinces available in your registration forms. You can also manage the names, codes, currency symbol, currency sign, punctuation, etc. that represent those locations.
Start Your Free Trial of Event Smart Today!
Get start with Event Smart for free, cancel anytime.
All plans come with a 14-day free trial.