Have you ever built a treehouse? Where did you start? Did you have a plan or did you just start nailing boards to a tree?
My first tree house started out when I nailed some boards to a tree, so I could climb it easier. Initially, I just wanted to get a better view of the public land behind my house.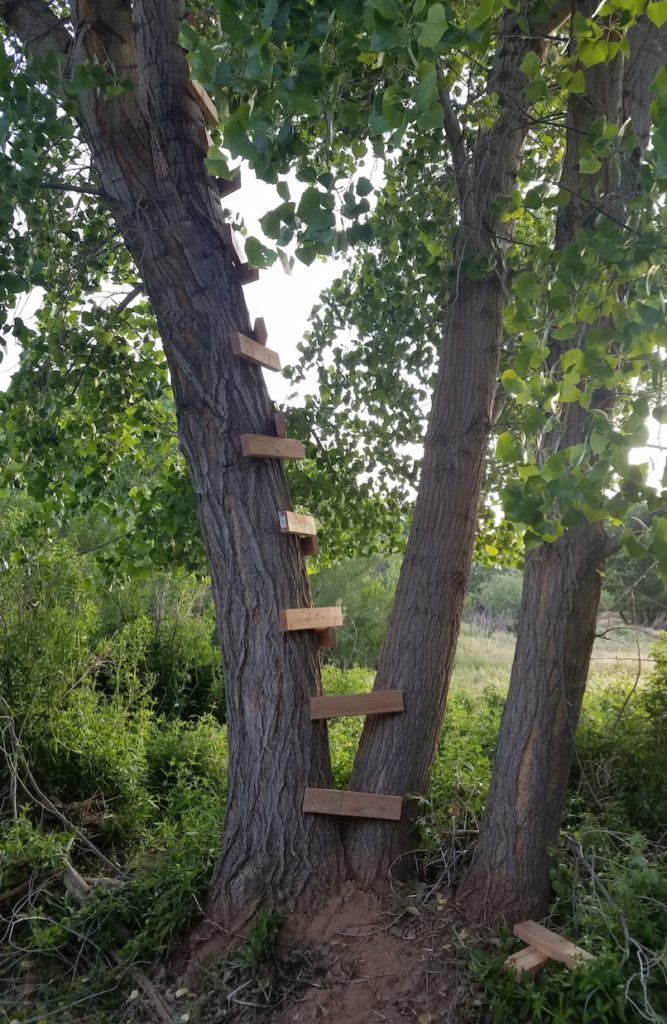 Drawing a Floor Plan
After climbing 15 feet into the tree, using my makeshift ladder, a plan started to form to build a treehouse. I began to envision a set of floor beams connecting an outcropping of three trees, which are on public land behind my house; then I began to envision a platform (for the floor) and a trapdoor in the floor. After a few visits to the tree over a two-week span, I managed to sketch up a drawing of the tree pattern and floor beam placement.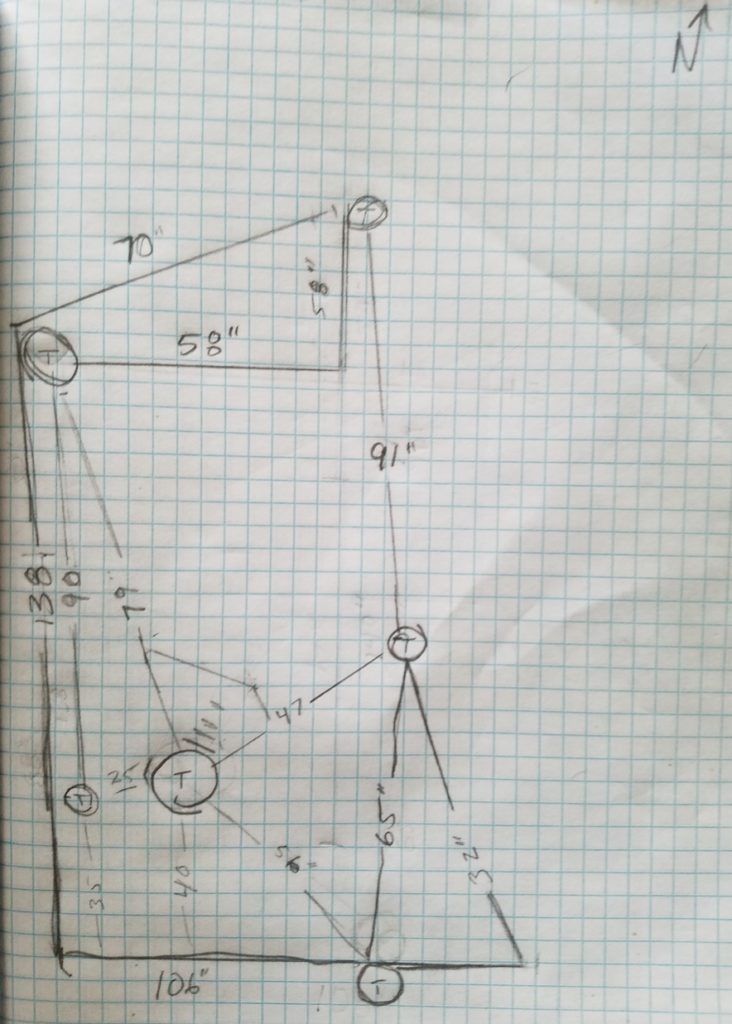 Installing Floor Beams
Once I had my drawing in place, I told my neighbor about the idea and enlisted his help to install the floor beams of our treehouse.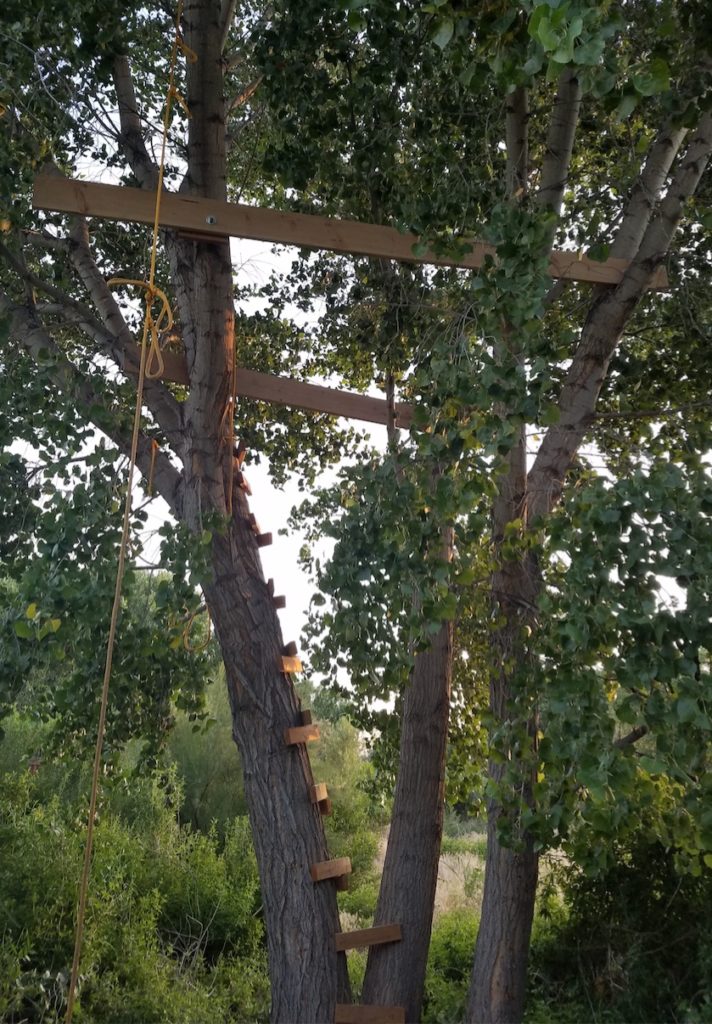 The positioning of the trees provided us with a great place to construct our floor.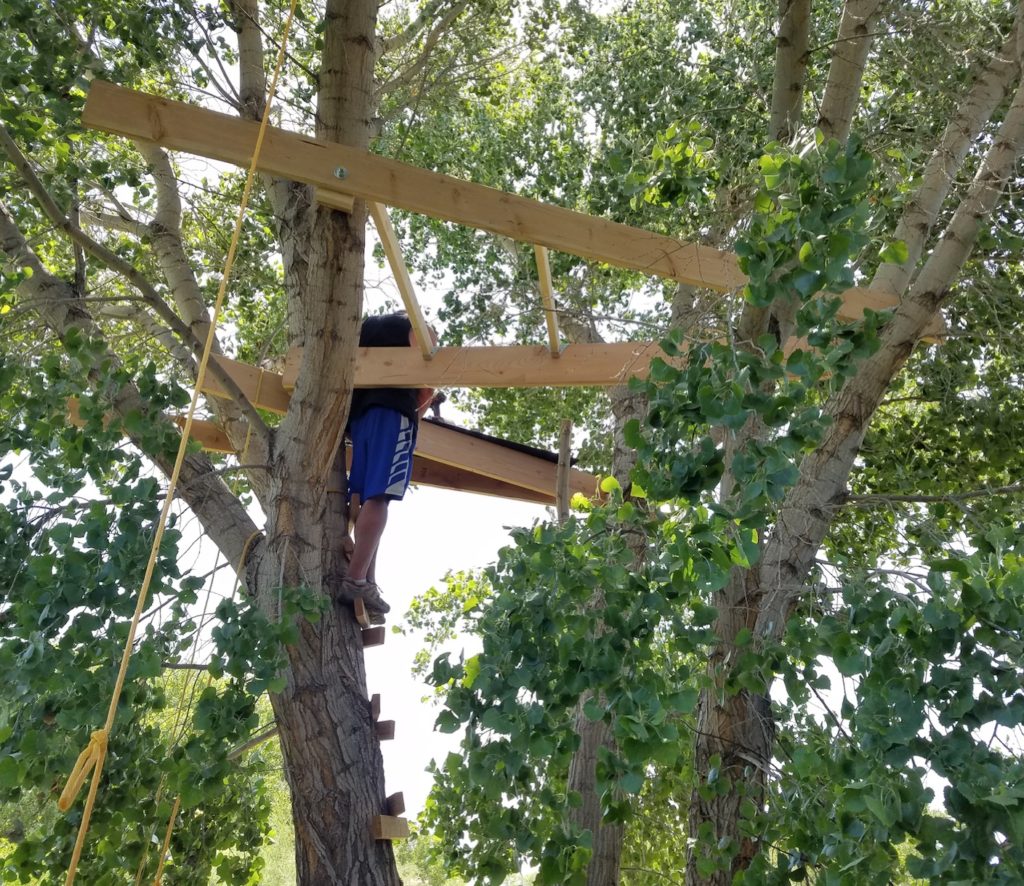 Our First Visitors
Snakey Snakerson (one of our treehouse neighbors) decided to stop by and inspect the work.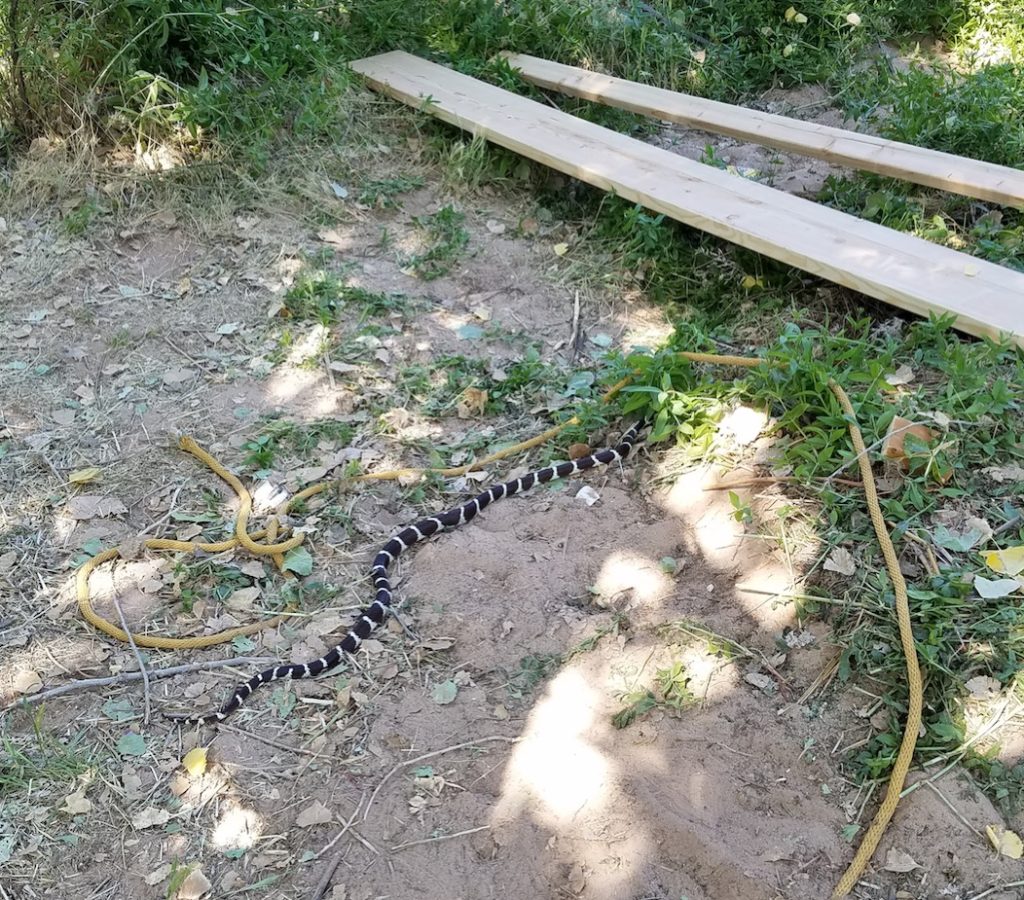 A few days later a family of mule deer stopped by for breakfast one cool morning.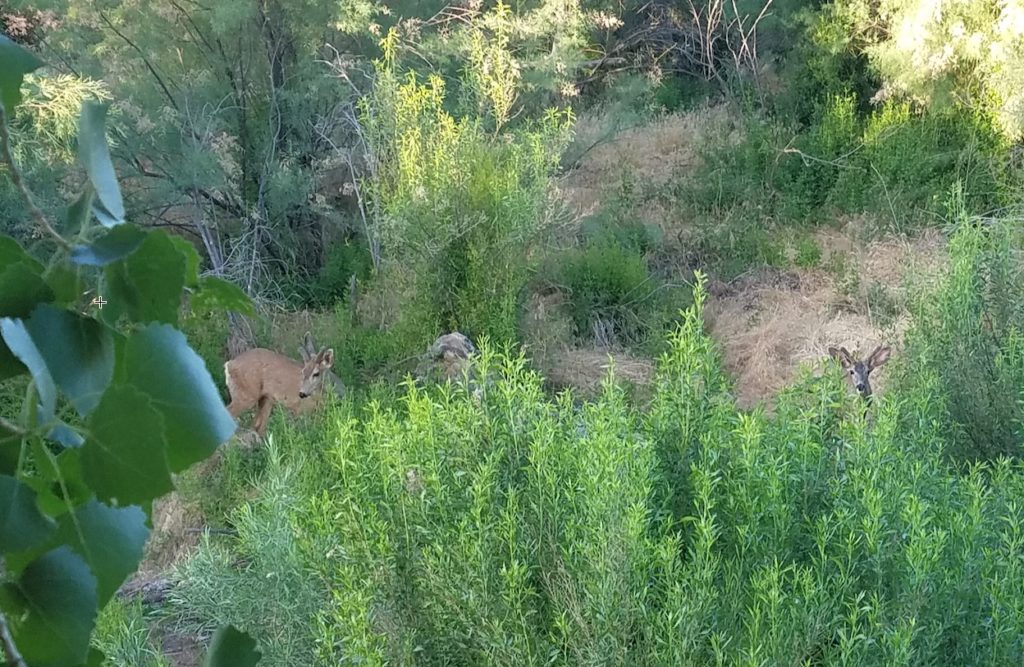 Adding the Floorboards
Pretty soon, after a few days of climbing trees and installing floor beams, we had a great place to start adding 5/8 inch sheets of floorboard from Lowe's.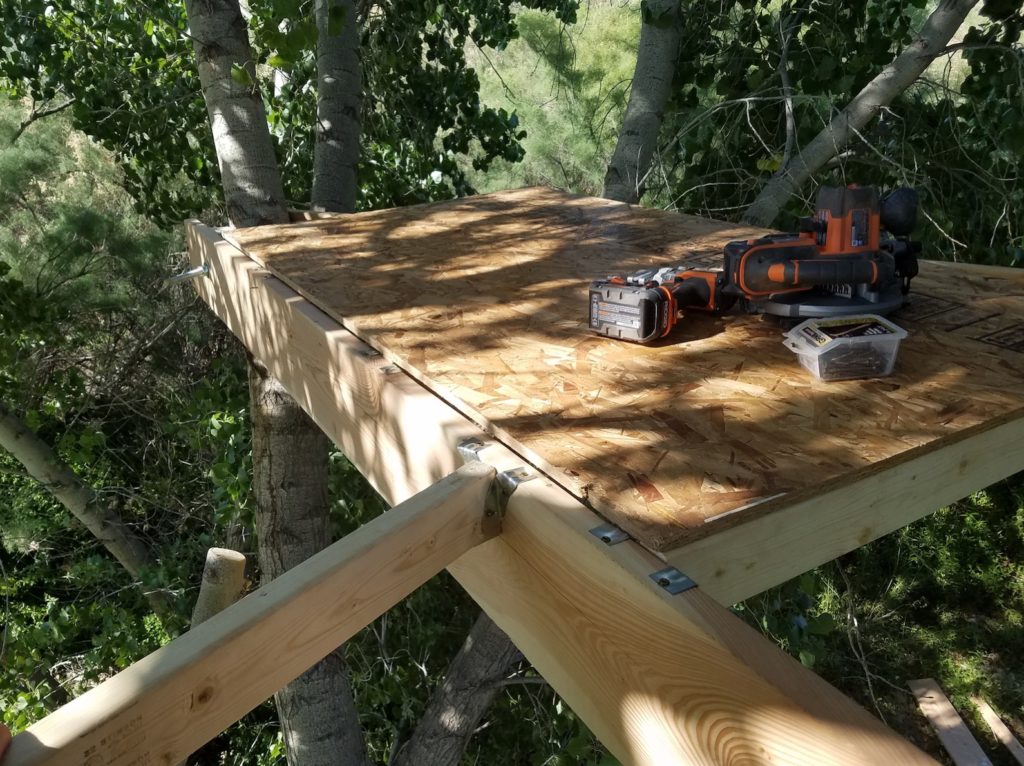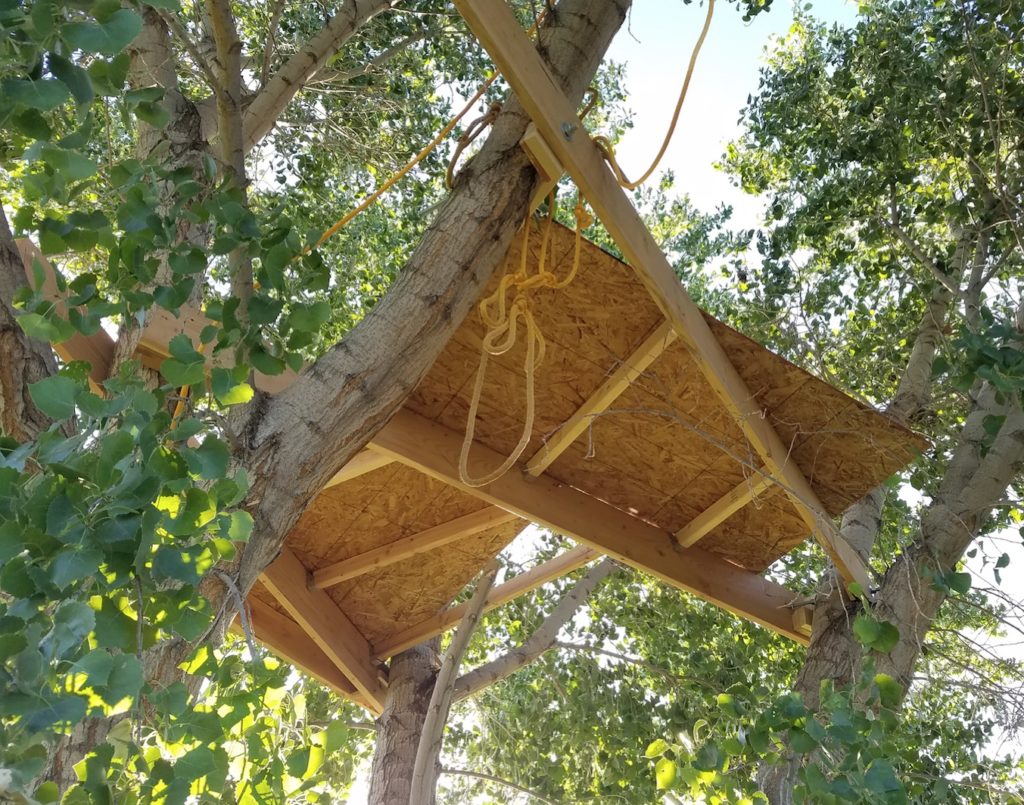 The Yellow Bucket
Then, we added a pulley and a yellow bucket to bring up our tools and hardware. I chose yellow because it the color is highly visible.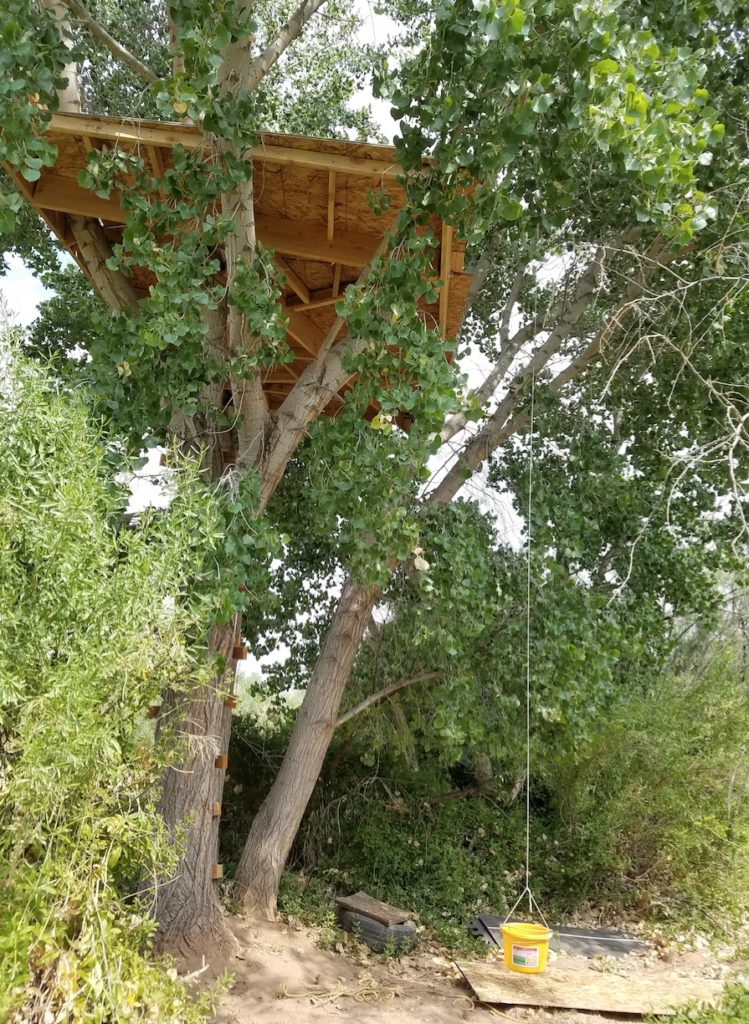 Envisioning a Zip Line Landing Zone
Next, after the floorboards were completed, I began envisioning a place to add a zip line for fast travel down from the treehouse. This is a picture of the zip line landing zone from inside the treehouse.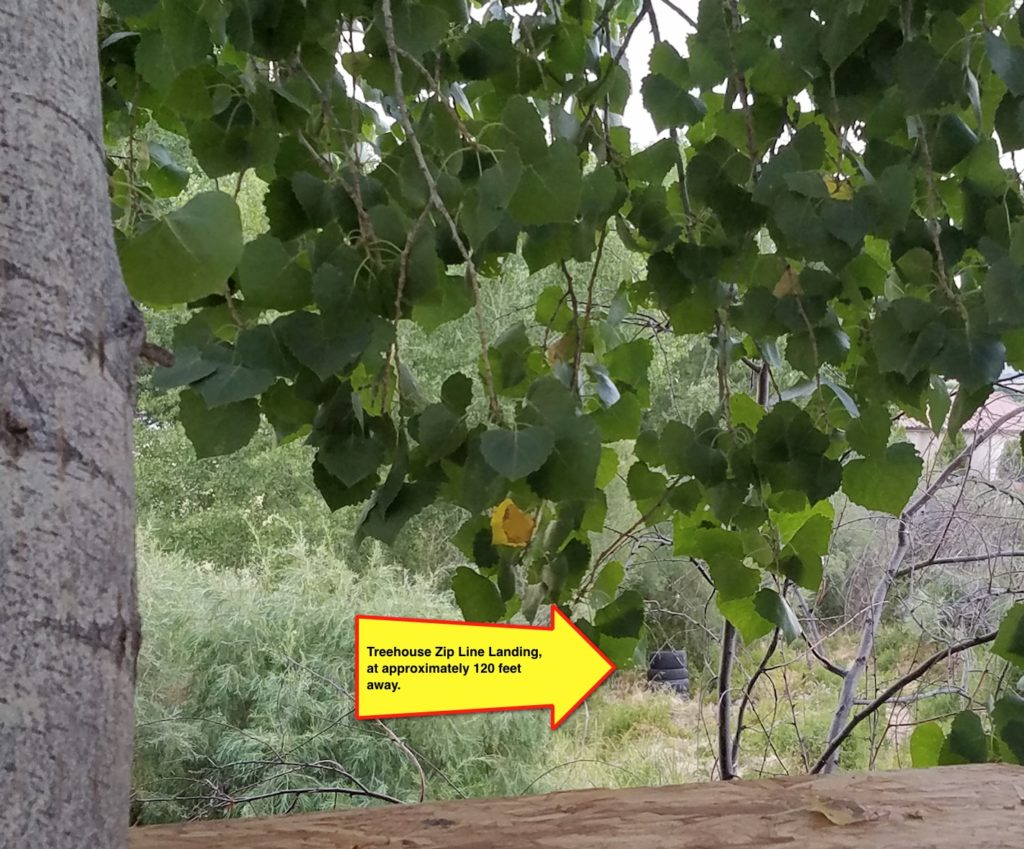 Here's a picture from the ground, at the zip line landing zone.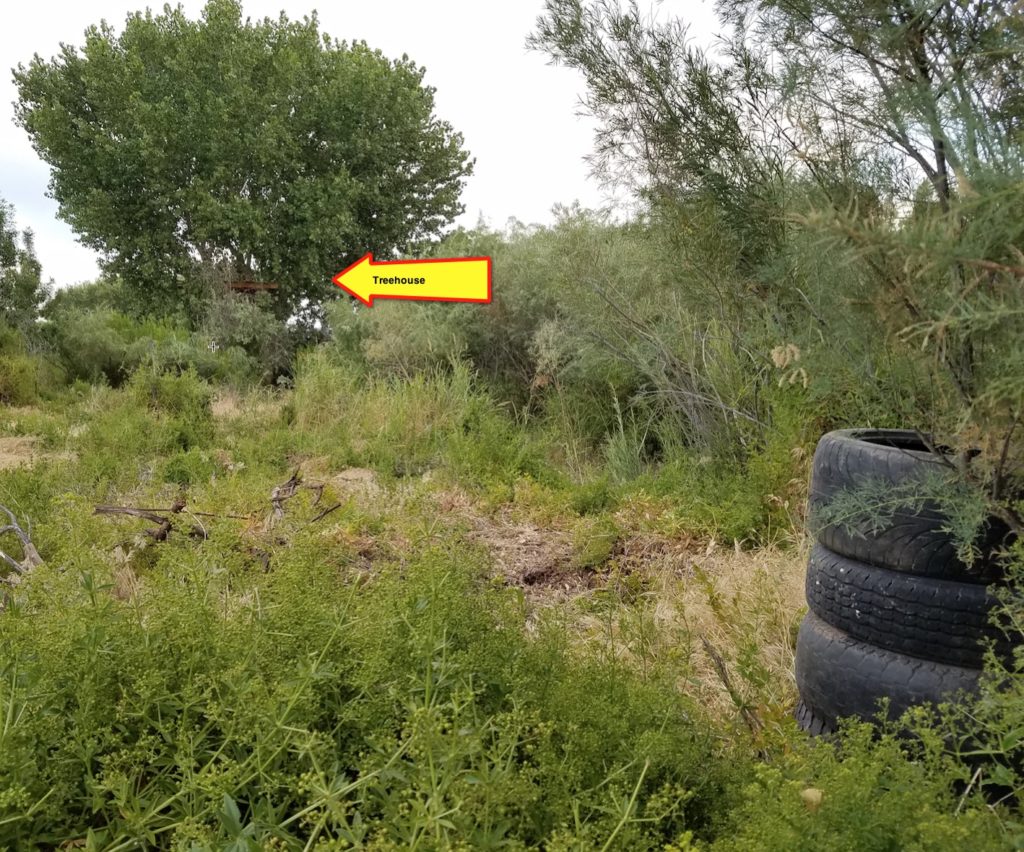 Adding a Makeshift Climbing Platform & Side-rails
However, we couldn't have a zip line until the tree house was safe and had easier access for some of the smaller kids to climb up safely. So I added makeshift side-rails and a strange, elongated climbing platform, made of 2×4's.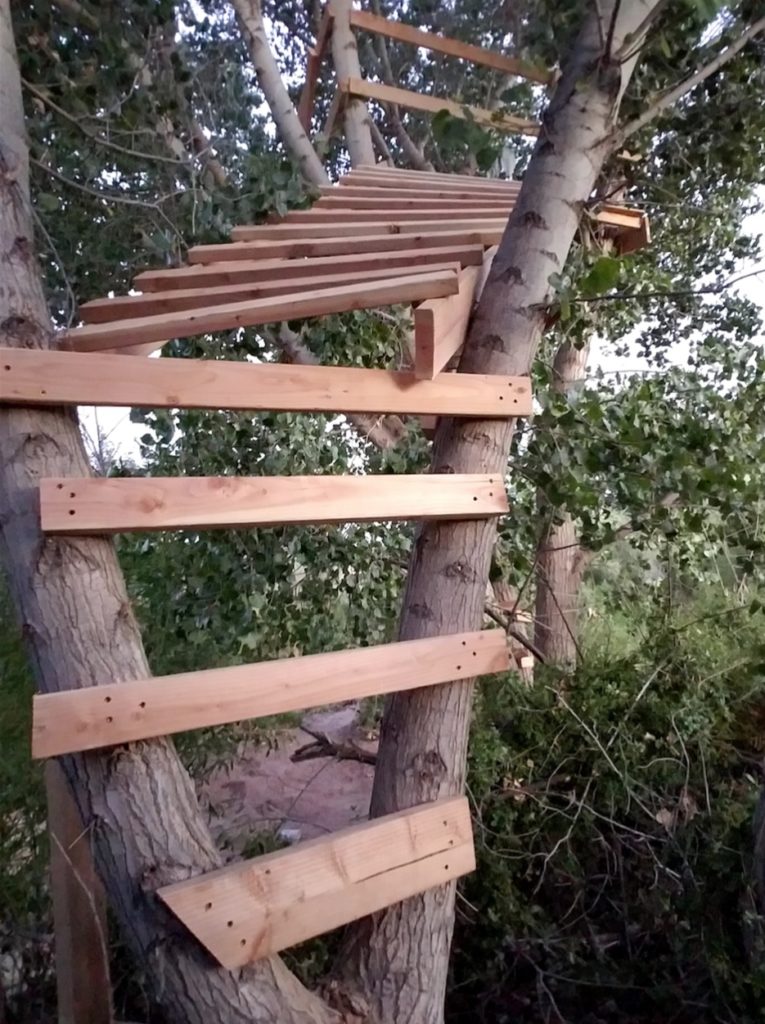 Once the unusual climbing platform was completed, I added makeshift side-rails around the outside of the platform to keep the kids from falling off.
Quick Exit via Zip Line
Remember the zip line I mentioned earlier? Well, that was another feature my neighbor, and I added a short time later. That started off as an idea, then turned into a vision, which transformed into a living, breathing, high-speed, treehouse-to-the-ground-transportation system in no time.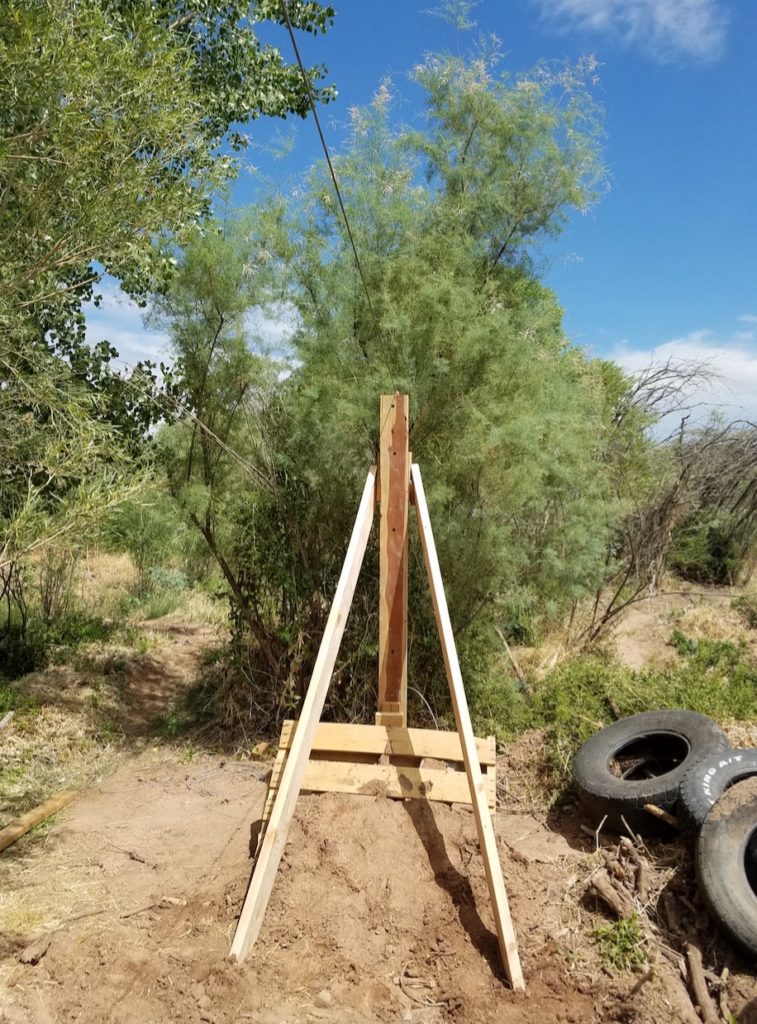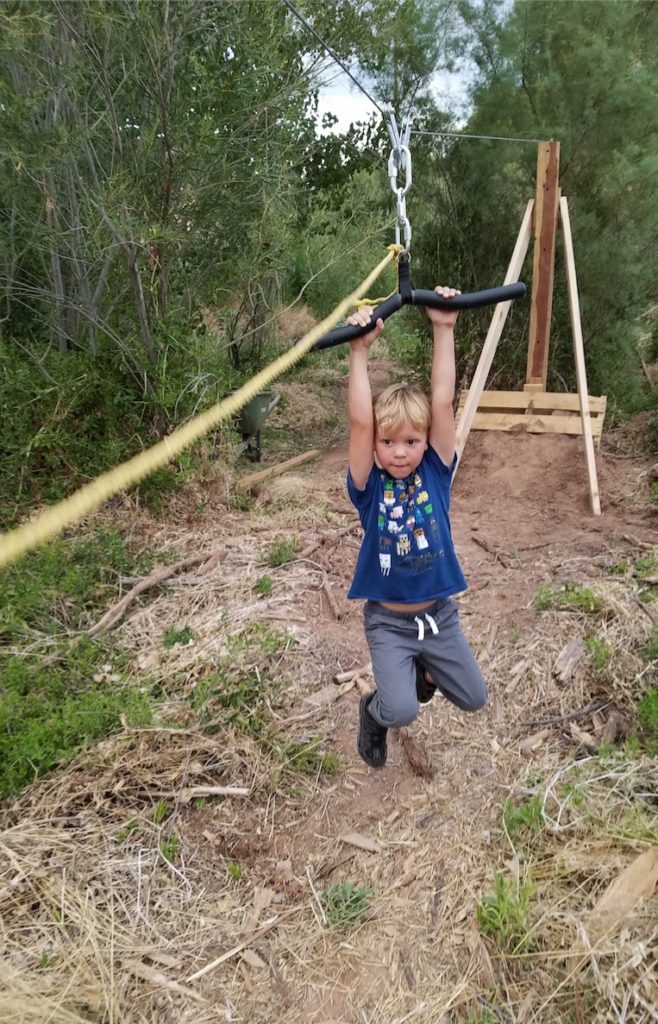 Completed Treehouse
Needless, to say, this little tree house idea quickly morphed into a neighborhood legend over the summer. It has been a great place for the kids to hang out and get away from the electronics. At times, I've seen droves of 5 or 6 kids at-a-time heading out to the treehouse to hang out and ride the zip-line.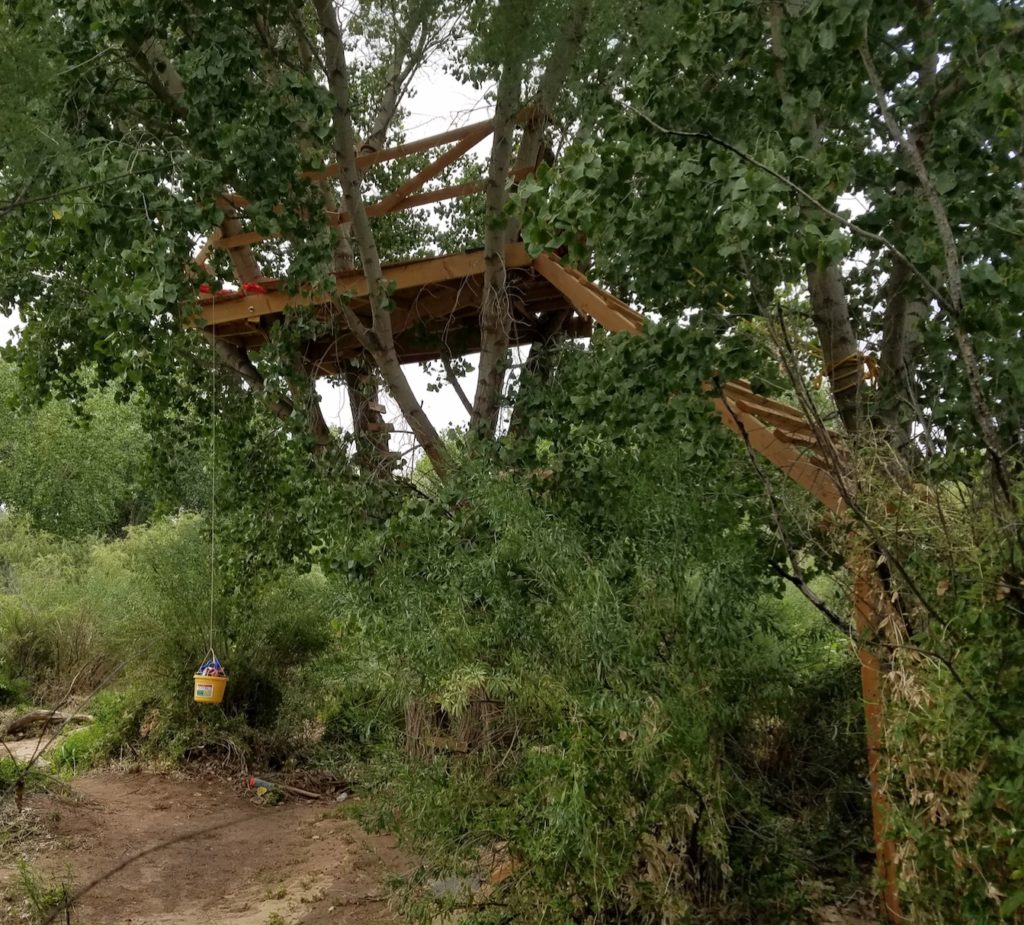 How Does Building a Treehouse Relate to Building an Event Ticketing Website on Top of WordPress?
Well, here we go, folks.
When you build a WordPress website, you have your hosting/server which acts as the trunk of your tree. Then you have WordPress, which is your site platform, but without walls (or rails as we used in the treehouse), meaning you can take a WordPress website in almost any direction. Just like we added a zip-line, lookout points, a climbing platform, and a yellow bucket for pulling up our tools and Nerf guns.
Later, when everything was finished, a steady flow of visitors from all walks of life started showing up. We have had all kinds of birds, deer, rabbits, skunks, and snakes visit the tree house since we built it.
Our tree house could have remained boards nailed to a tree, or a platform to watch wildlife or a place for kids to play, and in need of security, or rails to keep the kids from falling out. Instead, we added many features we knew kids would love.
WordPress is So Much More Than a Blogging Platform 
With WordPress, your website can be a simple blog, or you can add plugins, change the theme (the look and feel of the website), and attract people from all over the world.
WordPress allows you to install WordPress SEO plugins, such as Yoast SEO, or contact forms plugins, such as Gravity Forms and Formidable Forms so you can offer a multitude of ways for customers to offer feedback, answer after event survey questions, or even design simple or complicated polling systems. Platforms such as Event Espresso, Events Manager, and The Events Calendar empower event managers and website owners by allowing them to display events on their WordPress website and sell tickets to almost any type of event.
Eventually, as your WordPress ticketing website grows, people from all over the world will visit your site, read your blog posts, participate in polls and surveys, and register for events. Along the way, your WordPress website is used in ways you've never imagined.
So Many Different Directions with a WordPress Website
Similar to a tree house with a ladder, a climbing platform, and a zip line, there are many directions you can go with WordPress when envisioning your event ticketing website. For example, with Event Espresso (or any of the other plugins), your customers can follow the same path through registration, while having different choices when it comes to payment methods, opportunities to make donations, and auto-sign-up to your newsletter when registering for an event.
Soon, your simple tree house, err, I mean event ticket website, could become a legend. Just look at what Event Smart has accomplished in two years, becoming the only Software as a Service (SaaS) event ticketing platform built on top of WordPress, using Event Espresso. Event Smart has surpassed over 500,000 registrations a month. I don't know about you, but I think that's pretty amazing for an event ticketing website that's powered by WordPress, Event Espresso, and Pagely.com.
Don't Want to Build it all Yourself? Hire a Developer
Just as I enlisted the help of my neighbor, you can hire a developer to build an event ticketing platform for you. You don't have to spend millions-to-make-millions with WordPress. The Event Espresso team surely didn't spend millions to develop Event Smart. They started with hosting, WordPress, some plugins, and a lot of imagination. Developers familiar with WordPress can easily implement any of the aforementioned event ticketing plugins.
Hiring a developer familiar with WordPress can easily turn your ideas into a performant business. If you're thinking about hiring a WordPress developer for your event ticketing website, then I highly suggest you head over to the Event Espresso Pros page, where you can find a wide range of WordPress developers. It should be noted that these top notch developers are not just familiar with Event Espresso, but also familiar with a wide scope of event calendar and ticketing plugins, such as Events Manager and The Events Calendar. Also, the team over at Event Espresso chose the developers listed on this page because they know these developers are worth their salt and uphold their clients best interests, even if that means suggesting alternative solutions.
The WordPress REST API Opens You Up to a New World of Opportunities

As I mentioned above about the treehouse, the WordPress REST API allows a website owner to open up their website to a whole new host of opportunities. Imagine all of the kids in the neighborhood getting word of your tree house in the public lands behind out behind your house. Pretty soon, the neighborhood kids start to bring chairs, toys, and new ideas to the treehouse. After a while, new games are created and forever lasting memories are made.
A REST API for Event Registration with WordPress
The Event Espresso REST API is also opening up the platform to a wide array of new features, such as recurring events, seating charts, and integration with third-party platforms.
Thanks to the inclusion of the REST API in WordPress, at some point in 2016. Many event plugins, such as Event Espresso have been busy implementing the WordPress REST API in every aspect of the platform. I think Event Espresso is actually one of the first WordPress Event Registration plugins to fully implement the REST API. The team at Event Espresso has built both READ and WRITE endpoints into their REST API, which has allowed the team to develop their very own mobile apps for ticket scanning and at-the-door attendance tracking. No other WordPress event registration plugin for WordPress has been able to develop a READ/WRITE REST API, mobile apps, nor support for a wide array of ticketing and registration features. On top of that, all of the features in Event Espresso have been carried over to Event Smart.
Conclusion
This project has been a great way to get away from the computer, spend some time with my neighbors, and it gives my kids a reason to put away the electronics and spend some time outside. I know it's a far fetched association with WordPress and events, but I hope you enjoyed the story and can glean some ideas from it.
Please enjoy this video of my neighbor riding the zip-line down from the treehouse:
Share Your Treehouse Story
I would love to read your personal tree house story. Please feel free to share your stories and comments below.