As I was surfing the net one weekend, I came across a website where you can pay for ad space on digital billboards for only a few dollars per day.
Within seconds after seeing the ad, I remembered seeing Hostgator using billboard advertising a few years ago and thought to myself, this is an excellent way to increase brand awareness for Event Espresso, so I decided to give it a try during WordCamp Salt Lake City.
Digital Billboard Advertising for WordPress Plugins
This post strives to give you all the juicy details of using billboard advertising to increase brand recognition around a WordPress business, during WordCamp, as well as an idea of running a Twitter contest during the event. Last, I'll discuss the results of the campaign and touch on some theories behind the psychology of brand awareness.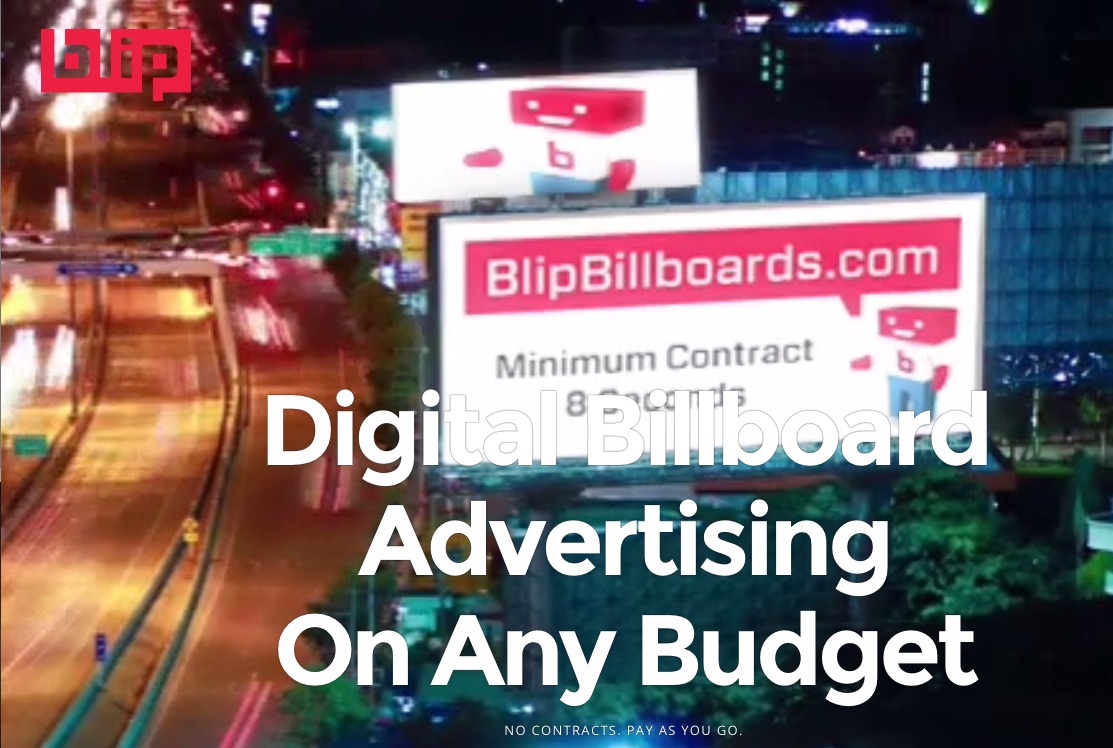 How it Works
Create Ads – Upload your artwork or create a text-based ad using Blip's supplied templates.
Say When and Where to Display the Ads – Pick your billboard locations, dates, and times to show your ads.
Set a Budget – Any budget will do. Just set a daily budget and indicate the price you're willing to pay each time your ad is shown, which can be as little as .01 cents, up to .50 cents.
Getting Started with Digital Billboard Advertising
Getting started with digital billboard advertising is quite easy in my opinion. However, at this time, the options seem rather limited to only a few locations within the United States, but I did manage to run a campaign with minimal success. I'll discuss the results below and if you have any comments or questions, be sure to let me know at the end of the article.
Let's get started.
Create a Blip Billboard Account
The first thing you need to do is set up a Blip account. Create an account here.
Design an Ad
For this part, I created my ads using Photoshop, which I'll share with you later on in the post. If you don't have time to design your billboards, then you can hire a designer on Fiverr to whip something up for as little as $5. Blip also has a page where they display examples and provide templates to help you with designing a billboard for your company. Here's a case of some to of the billboards Blip has on their website: has on their website: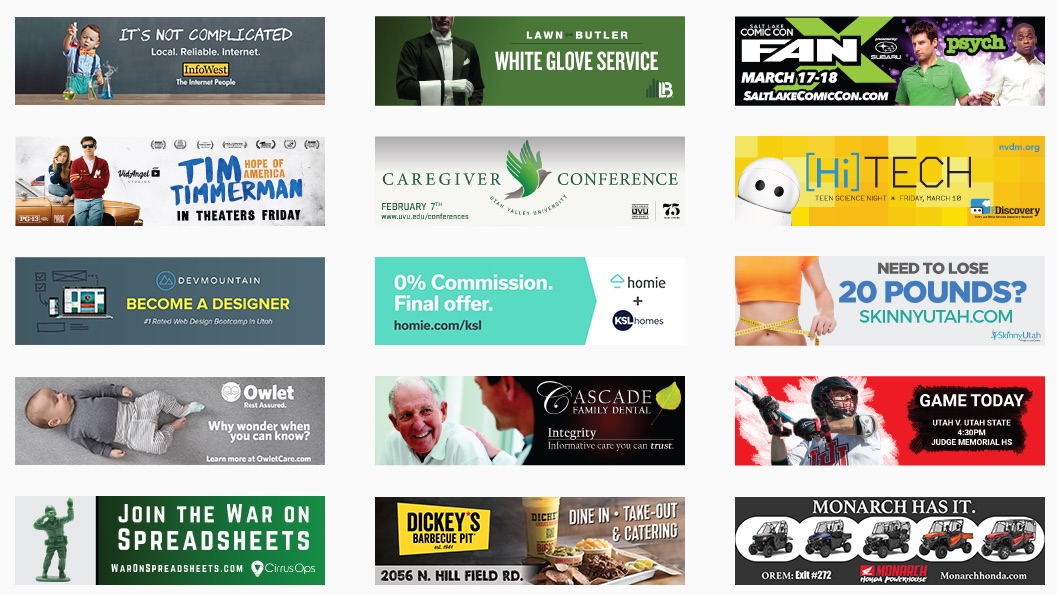 Build a Campaign
Once my ads were created, I was able to create a campaign to display the ads on selected billboards.
Choose a Sign from the Map – Use a Google Map to select billboard locations.
Select a Billboard Location/Orientation – Choose the billboard to display the ads. Some places have multiple signs in different facing directions, such as North, East, West, and South at a single location.
Set a Budget – This section allows you to choose the dates, daily budget, and the maximum amount you are willing to pay per ad appearance. I set a daily budget of $10 for this particular location.
Set a Daily Schedule – This section allows you to manage ad spends according to the day of the week and time.
Select or Upload Ads – This is where you select current ads or upload new ones. Ads chosen in this step will b displayed at the selected billboard locations.
Name the Campaign – I called each campaign so I could distinguish it from the rest of the campaigns I am running. For this campaign, I gave it a name unique to the city I am advertising in that's closest to the WordCamp that weekend.
Here's a screenshot of campaign builder: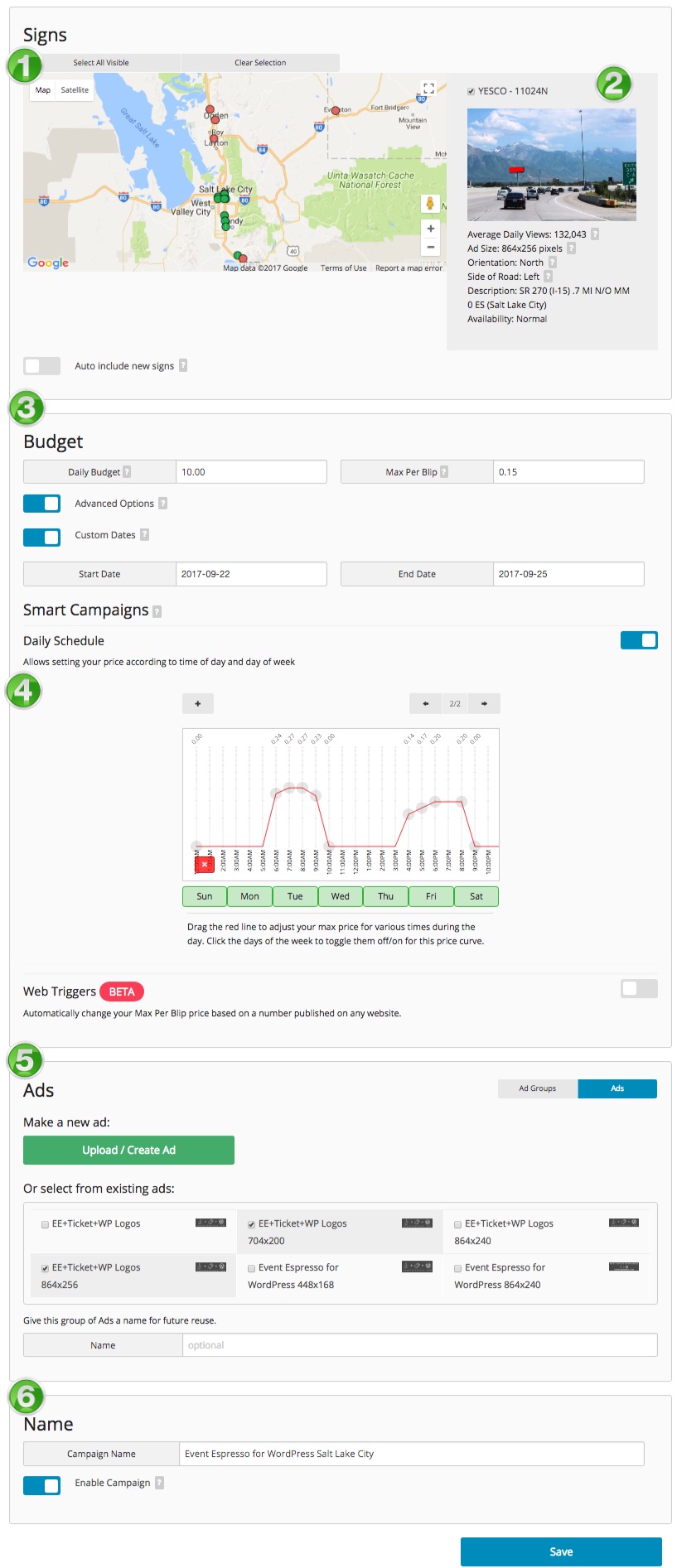 Run a Billboard Contest on Twitter During WordCamp
Now that my ads are displaying on billboards around the host WordCamp city, I started my Twitter campaigns (using Buffer) to encourage WordCamp attendees to search out and take a picture of the billboard. If a WordCamp attendee messages us a picture of the billboard advertisement or the details and location of the billboard, they win a prize. In this case, we offered a free Event Espresso Support License to WordCamp attendees.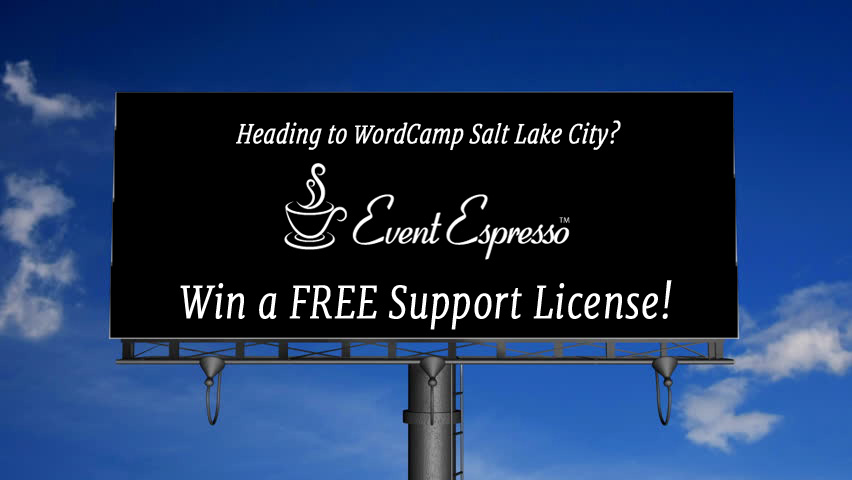 Using Buffer, I was able to schedule a boatload of Tweets to go out two days before and during the WordCamp Salt Lake City event (I couldn't attend because I was presenting at WordCamp Wilmington). Making sure to use the WordCamp Twitter hashtags for that WordCamp event, for maximum exposure.
Contest Results
Although no one attending WordCamp reported seeing one of our billboards, my sister-in-law did manage to snap this pic while driving into Salt Lake City, so I guess someone saw it. So how do we know if the campaign was a success? Using the analytics provided by Blip, which I'll discuss below. Meanwhile, here's a pic of one of the billboards in Salt Lake City, Utah.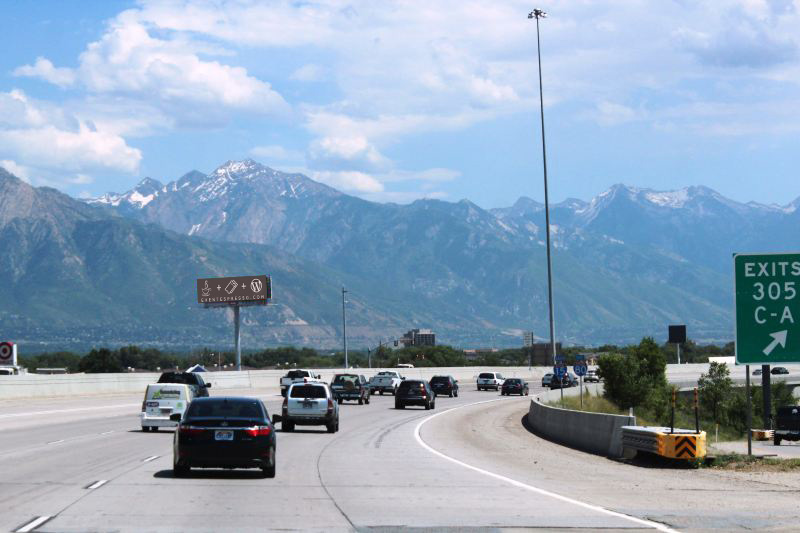 Billboard Campaign Analytics
Blip estimated that we received a total of 9,004 impressions, with an average of 62.9 blips per board, across 15 billboards. For a whopping total of 180 impressions per dollar. I'll break it down and post a screenshot of campaign results: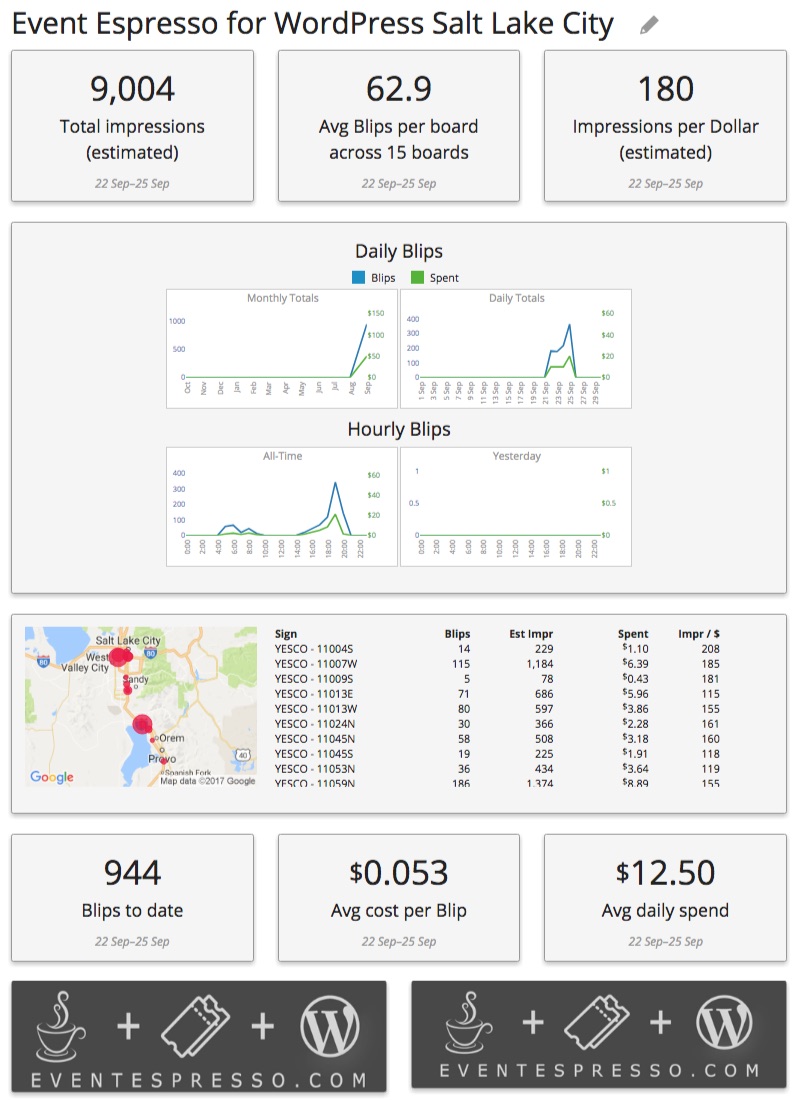 The image above displays our campaign name at the top, then impressions, and other stats. The Google map with red blips on it shows each billboard location where our ad was displayed, with corresponding stats and spend amounts. Finally, at the bottom of the image, we see the ads which were used for this campaign.
Billboard Campaign Analytics Breakdown
Blips to date: 944
Average blips per board: 62.9
Average cost per blip: $0.053
Impressions per dollar: 180
Total billboards: 15
Overall impressions: 9,004
Total spent: $50
Wrapping Up
Although minimal efforts (couple hours on a Saturday) were made to run this campaign, I think it was a worthwhile experiment to see if billboard advertising works for our type of business.
At the very least, it was a fun exercise of trying to create an informational, yet simple billboard advertisement. I think it's hard to convey a message such as ours, which is seeking to relate our logo (which represents our business but looks like it has something to do with coffee) with ticketing and WordPress. I felt like the coffee cup icon was a great icon alongside a possibly wider known WordPress logo icon. However, the average person driving by would have to be familiar with WordPress, hence the reason I targeted the times that I estimated people attending WordPress would be driving in.
All About Brand Awareness
At the very least, I think we accomplished a small amount of brand recognition for WordPress by placing the WordPress logo on a billboard. However, I'm pretty sure most people would not have any remote understanding of the meaning of "Coffee+Tickets+WordPress" but I hoped that people coming to WordCamp would see it and understand.
Thoughts on Brand Awareness
Brand awareness is a fundamental component to our business and personal success, as many of us use brand awareness as a tool to promote ourselves, our social status, and the companies we work at. Moreover, how our brains process branding and a business' visual identity carries valuable lessons for marketers, entrepreneurs, and designers. As humans, we're incredibly visual. In fact, almost 50% of our brains are involved in visual processing.
More than half (60%) of consumers around the world prefer to buy new products from a familiar brand than switch to a new brand, according to a 29,000 person Nielsen study. Unknown brands can even activate parts of the brain associated with negative emotions (the insula or insular cortex) when we first encounter them. Source: How the Human Brain Experiences Your Brand
Stick with Google Adwords?
Since almost everyone uses Google Adwords and I was trying to think outside the box, I wanted to try something different. At the very least, it was a great opportunity to post some tweets on Twitter to build our brand awareness during the WordCamp event. Would the advertising dollars have been of better value using Google Adwords? Absolutely! I think it might be a better idea to spend the advertising dollars on advertising when someone searches for the term WordCamp on Google.
What's Your Experience with Billboard Advertising?
Have you experimented with billboard advertising? What was your experience with it? Let me know in the comments below.